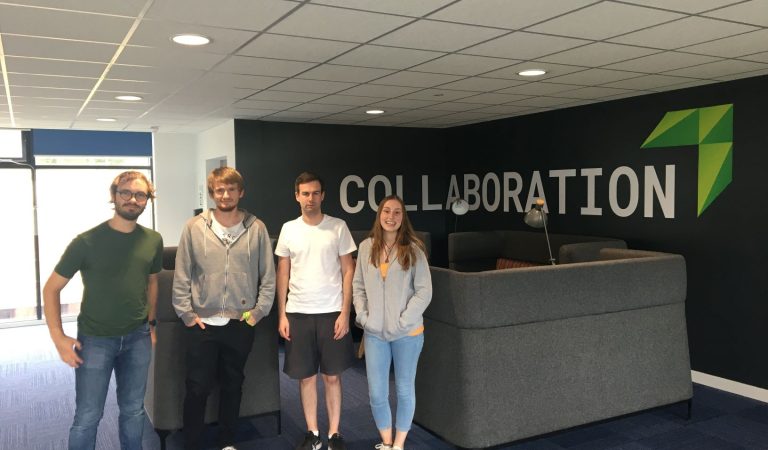 Fresh Play Ltd is a thriving app development company based at the ICKG. Working with companies worldwide, they have spent the past six years building a reputation for excellence among their client base. With a new game in development and on target for release by Christmas, they're taking things back to where it all began.
We caught up with company founder Thomas Lock to find out more about the project and the unique working culture at Fresh Play.
Can you share a little bit about your business?
Fresh Play LTD started as a video game publishing company. I founded Fresh Play to promote my upcoming title BrawlQuest whilst at university. The game was delayed and after graduating I became a freelance app developer. I later hired my first employee, then my second, and now my third, along with finding our office space at the Innovation Centre.
16 months and 130 projects on we're constantly learning and evolving our process. BrawlQuest is finally back in development and we're hoping for a release by December, along with some other exciting software projects.
What made you decide to go into app development?
It was less about deciding to go into app development and more about keeping up with the times. According to Statista over 50% of all web traffic is mobile. For many businesses web just doesn't provide the level of control and quality that their customers want. Do you browse Facebook on Safari or on the app? It's pretty clear which is the better experience. Apps are the future of consumer software and have been more profitable than computer software for years now. It's a booming industry, and with phones only becoming more powerful, it shows no signs of slowing down.
What is your team culture like? Who are the key members?
I unexpectedly found myself in a management position without experience or expectation and our current corporate culture reflects that in a really positive way. We don't have set hours and just ensure our projects are done to the best possible standard within our deadlines. Sometimes that means working 12 hours days and other times 4. It's important to me that the team know the value of their labour and I'm always transparent with decision-making processes, profit and pay.
It's an extremely modern way of working and it suits us. It's a friendly, communal atmosphere rather than a hierarchy, meaning we discuss ideas and concerns freely. So far, it's produced better results than if things were more regimented.
Tell us more about BrawlQuest and your ambitions as a game developer.
Atmosphere is crucial to any game. For a lot of designers this has translated to better graphics, which is great on one hand, but has stifled the work of small studios. We believe that a small team working on something with lower fidelity, but greater depth, can create something just as good.
BrawlQuest is a 2D MMORPG. As you play through, the world changes as day turns to night and our dynamic weather system creates storms of rain and snow that allow different scenarios to play out. There's static content that can be completed solo and dynamic content that will requires you to team up with those around you. Our hope with BrawlQuest is to capture something that inspires people, whilst simultaneously creating a vivid space for people to connect and go on adventures together.
Why did you decide to join the ICKG?
Being surrounded by innovative businesses is extremely exciting, especially after being largely cut off from other businesses while working remotely. It's been hard to network at the moment, but we've started connecting with neighbouring businesses and hope to make more of the positive opportunities the space provides.
What would you say to a growing business considering moving to the ICKG?
When making the decision to move into a new office, you always weigh up the costs with the benefits. The ICKG is a bustling community of doers and when you enter the building you instantly feel part of that community. The result is improved productivity and an enthusiasm to keep innovating. With remote working becoming the norm, I think we might have lost sight of how important environment is to productivity and mindset, and nowhere is better for that than here.
What do the next 6-12 months look like for Fresh Play?
Over the next 6 months we'll be releasing BrawlQuest and continuing to work on apps and other creations, including a unique take on modern music streaming apps. We don't have a fixed plan of action: when our work is ready for the world to see we'll launch it.
We are proud to have Freshplay based here at the Innovation Centre if you are interested in how you can be part of the centre please contact us at info@innovationcentre-kg.co.uk or 01206 405 500