Insurtech start-up Balkerne was the first company to join the ICKG and since then, they've gone strength to strength. With a new product on the market, success with multiple accelerators and various projects in the pipeline, we wanted to find out more about their incredible journey and the ways the ICKG has supported their business growth.
Can you share a little bit about your business and your team?
Balkerne is an Insurtech that provides an advanced digital risk management platform for property insurers, brokers, and owners. It helps users prevent losses from manmade and natural events through predictive, actionable, and location-based intelligence. Drawing on information sources, our innovative platform uses machine learning to create and disseminate location-specific alerts and advice to mitigate evolving risks, down to the individual property level.
We are proud to be part of the UK Government's Digital Catapult programme for the application of Machine Learning, as well as 1 one of only 13 companies to be selected as part of an IBM Global Accelerator. Most recently, we were delighted to be included in Tech Nation's FinTech 3.0 cohort.
We are a friendly team of seven here at Balkerne, mostly developers with a passion for creating software applications and doing data science!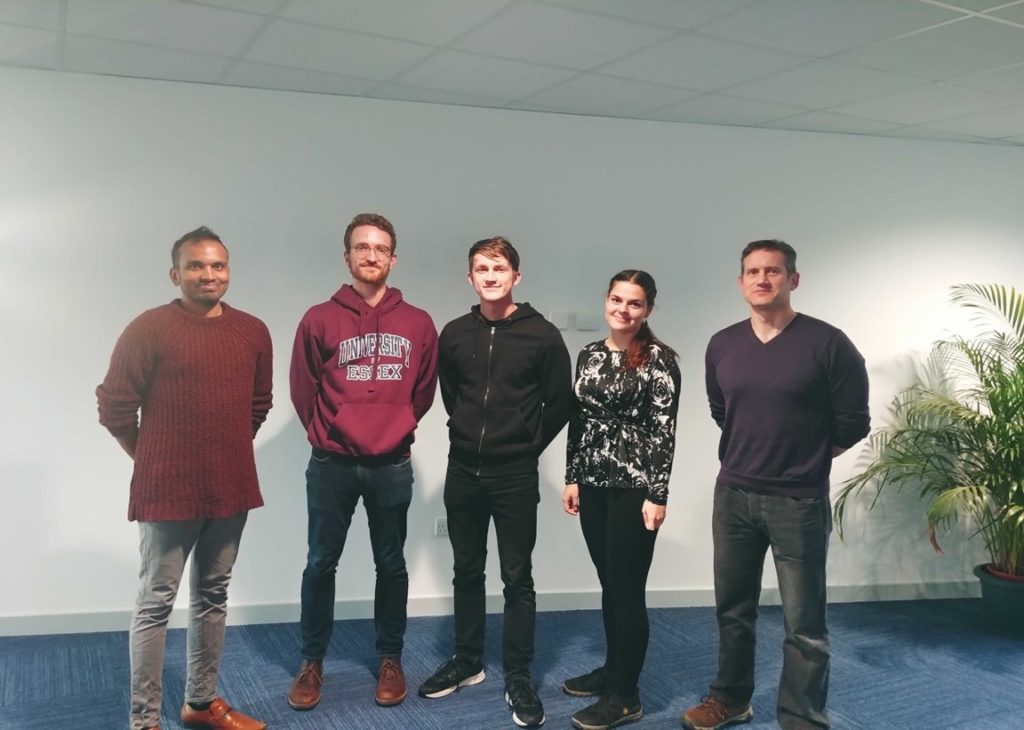 Harish (Co-Founder), James, Lukas, Reneta and Jonathan (CEO and Co-Founder). [pictured] Justas, Alan and Jon [not pictured]
Why did you decide to join the ICKG?
We joined the ICKG to be part of a community of young tech businesses driving innovation. We also wanted to make the most of the ICKG's links to University of Essex. As a young business, it made sense to work with selected faculty, engage with the diverse graduate pool, to nurture new talent through internship schemes and provide practical experience in software development and data analysis. In turn, their work has helped the business grow, and internships have successfully developed into full time roles in the company.
You were the first customers of the ICKG – how have things changed for your business since you moved in?
We joined the ICKG in May 2019 and it has certainly become a lot busier. We are now surrounded by fantastic companies doing really interesting work in the tech world. The scope of the facilities and events has also grown (COVID-19 impact notwithstanding). The biggest and most exciting development for us came in March of this year, when we launched the first version of our platform and secured a contract with a FTSE 100 company.
Ben & Chris from Arma Karma have experience in the industry we're targeting, so it has been helpful to hear their insights. We are also having some productive discussions with a company that uses geospatial data to discuss best practices. At the ICKG there are always interesting conversations to be had with other businesses, sometimes finding solutions to problems we all share.
Do you have any new projects lined up?
In response to the COVID-19 situation, we expanded the scope of functionality of SmartResilience to provide a wider coverage and identification of risks applicable to businesses. Concurrently, we have matured our API platform offering, as well as identifying and integrating wider international data sets, to support our planned international growth, particularly within the EU. We continue to engage with UK based property insurers and brokers regarding provision of our application.
Most recently, we have been fortunate to win an Innovate UK bid, which involves expanding the scope of functionality of SmartResilience to meet the needs of the Hospitality sector.
Tell us about your accelerator success.
We previously benefited from the NatWest Fintech Accelerator and the Digital Catapult Machine Intelligence Program. These provided industry introductions to investors, mentorship, and deeper insights into start-up playbook.
Most recently, we passed a number of assessments to be selected for the IBM HyperProtect Accelerator is the first global accelerator we've been involved in and so far it has been great, both in terms of the support on offer and the opportunities to learn from other companies selected for the accelerator. 
How would you rate the business support services at the ICKG?
Strategy discussions with Innovation Director Neil have helped us explore different perspectives on business challenges. Support services, including the introduction to Amazon Web Services (AWS Activate) have strengthened our relationship with AWS and enabled us experiment more quickly on the cloud. They have also helped us tackle common funding support options, such as R&D Tax Credits, Kickstart Scheme, and Internships through EIRA.
What would you say to a growing business that is considering moving to the ICKG?
Overall, it is a fantastic place for a start-up business to be located! The facilities are excellent, and it is really a positive working environment. It also palpably contributes to informing investors and customers of the type of company that Balkerne is.
We are proud to have Balkerne based here at the Innovation Centre if you are interested in how you can be part of the centre please contact us at info@innovationcentre-kg.co.uk or 01206 405 500