We are open for business.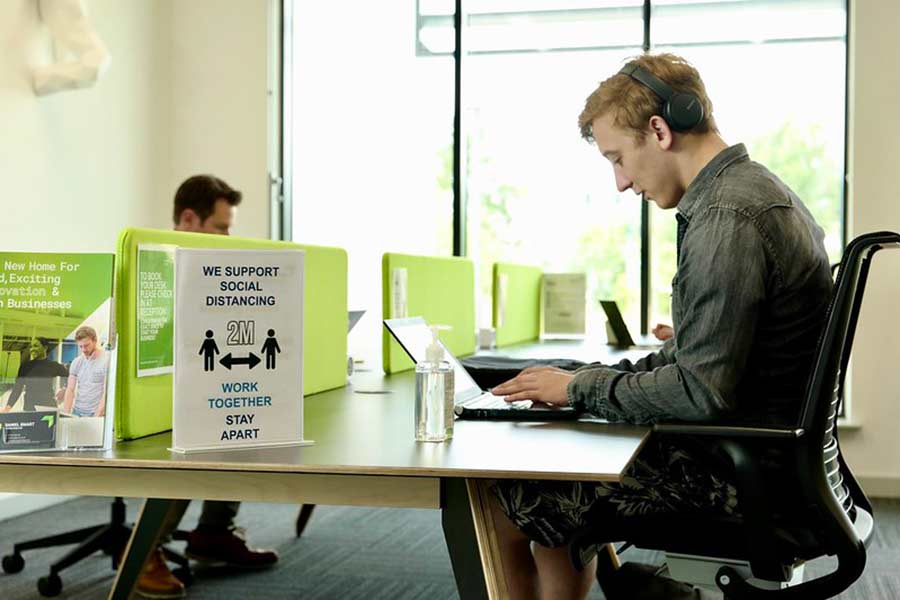 Like many other workplaces, we closed the doors to the Innovation centre and ran a skeleton service from March to July after government instigated the COVID-19 lockdown. We had nearly 20 local innovative businesses at the time but we have seen an increasing number begin to return (10) and take the critical steps toward 'business-as-usual'. The rest have indicated they will return soon, plus we have had two new businesses move in and more committed arrivals from September.
As we returned we developed a COVID-Safe Plan, which includes new signage, social distancing measures in communal areas, and the provision of additional hygiene and sanitisation facilities. The kitchens and toilets remain accessible with extra measures in place to keep people safe.
Though the workspace has been reconfigured to comply with the latest COVID-secure guidelines, the vibrant look and feel is still here plus we continue to offer flexible office terms, including easy in/out, hot desking and dedicated desk space (with extra cleaning in place). Our short-term licenses and pricing is still in place to help ease the transition back to full-time working.
Critically, businesses can also access dedicated on-site free business support from Director Neil Griffin, to help them respond and adapt to the changing and very challenging economic environment.
As lockdown restrictions continue to ease and we welcome more people back to the centre, we've been working hard to adapt our workspace and our offering, all to create a safe working environment and provide people with peace of mind but we also want to keep this an inspirational space for innovators.
We have an amazing community here at The Innovation Centre, Knowledge Gateway (ICKG) so it is vital for us to be open for business, welcome people back to the centre, and create a space that offers some sense of normality and security in a time of change and uncertainty.
This not only includes putting measures in place to protect the health and safety of our centre users but also offering our customers the support and flexibility they need to adapt to an uncertain and fast-changing business landscape, and take advantage of the opportunities that lie ahead.
The safety of everyone who uses the centre remains our number one priority and we hope the changes we have made, along with the dedicated business support in place, will provide assurance to customers returning after lockdown, and new customers alike.
The signs are positive for us with current customers returning, new businesses moving in such as Clientshare and Commsoft . We are also looking to capturing the commuter market to London and those people working from home. Those Innovative businesses that are now out of long-term leases or sick of working remotely can now base themselves in place that is truly set for scaling businesses.
What is also great to see is two companies with upcoming product launches in the near future in Keep Fit Eat Fit and QGO, proof that there is still opportunity out there and if you do things right and are brave you can still thrive.
If 2008 taught us anything it's that start-ups and scale ups can thrive, why should this be any different? Staying positive is the key, just this week we had call from the USA from a company looking to house people in offices in Colchester, it is about capitalising now and seizing the day.
There is lots going on here at the Innovation Centre and we would hate for you to miss out so please stay in touch by signing up to our communication stream here