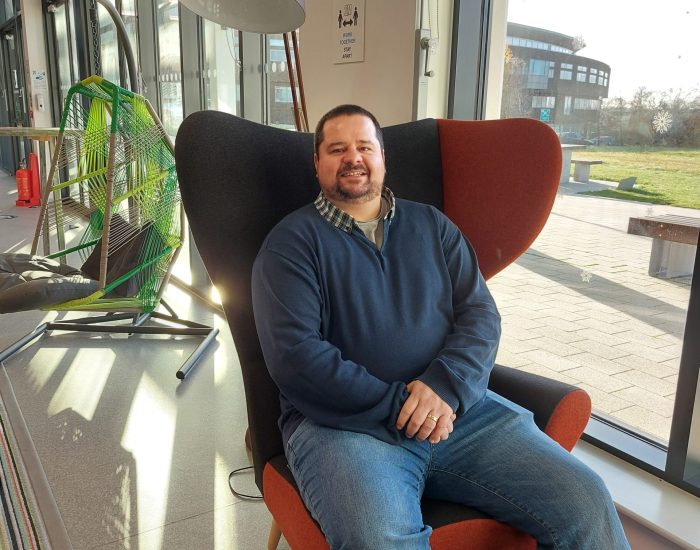 This month we welcomed Cloudfinity to the Innovation Centre. Cloudfinity is a Salesforce Consultancy company with a University of Essex graduate at the helm.
We caught up with company founder Lee Goodlad to find out more about the company and his future plans for growth.
Can you share a little bit about your business?
At CloudFinity, we work with your business using Salesforce to transform sales and customer service processes to enhance the customer experience whilst unleashing your sales and service team's potential. 
We are aimed at businesses that already use Salesforce as a tool but do not necessarily know how to maximise the potential, very few companies have a dedicated in-house expert. We can help take the pressure off and taking up one of our service packages allows you to take control of enhancements with expert advice on hand as and when you need it. 
I believe working together with the business can empower your team to support customers using innovative technologies. In conjunction this arms your sales team with the latest features to connect and sell whilst providing an unrivalled customer experience.
What are you working on at the moment?
At the moment I am just getting the office all sorted and making sure I am looking after our current clients. As a University of Essex graduate, I am also looking at how I can maximise the talent available locally as well as grow the pipeline and get more customers on board, that to me is very exciting.
Why did you decide to join the ICKG?
I have been working at home for some time, but I was finding my productivity was starting to dip so getting back into an office environment was key. I like the ethos of the building and the whole community feel, plus the building itself is pretty unique with a great feel to it.
I also liked the networks that the team is connected to and the prospect of accessing the business support services that are provided by Neil the Innovation Director.
The fact the office is set in a professional but inspirational environment gives a really good first impression to customers and potential clients coming through the door.
What would you say to a growing business considering moving to the ICKG?
The leadership team has been very helpful in helping me settle and the terms are really flexible which gives really good peace of mind.
There is some very good break out space areas that the tenants of the building can utilise, and this helps with innovation and collaboration.
For me the location is ideal, there are shops close by on campus, a bank, post office plus bars and restaurants for when we are allowed to visit again.
What do the next 6-12 months look like for Cloudfinity?
The strategy is to grow and utilise the University links with regards to recruitment and knowledge. I haven't done much marketing, but I will be looking at that as we go through the year to get the word out about the Cloudfinity offer.
We are proud to have Cloudfinity based here at the Innovation Centre. If you are interested in how you can be part of the centre please contact us at info@innovationcentre-kg.co.uk or 01206 405 500