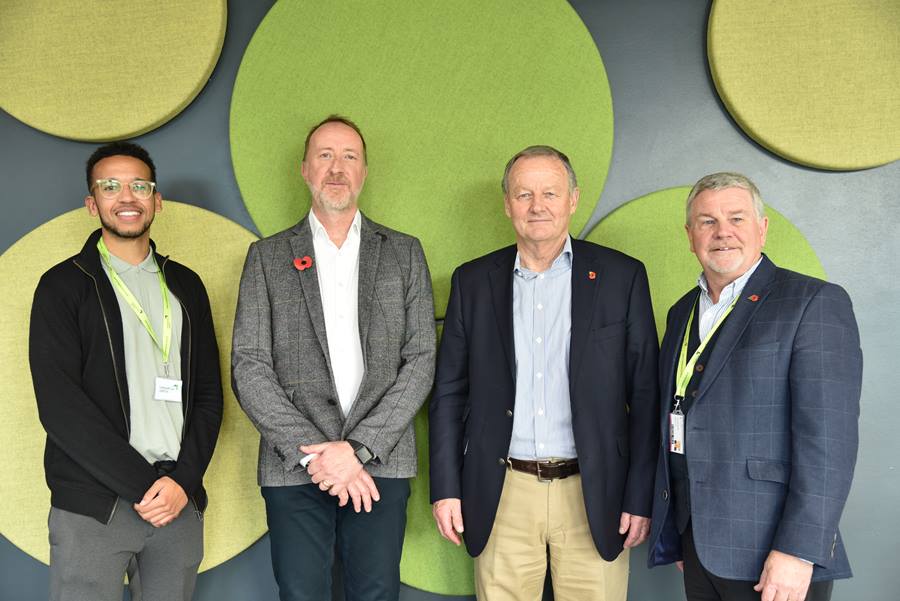 Disruptive bleeding-edge tech companies have secured a staggering £16.1m of funding in just 18 months after being supported by the University of Essex.
Innovative investment programme Angels@Essex facilitated fundraising by linking international backers with East of England entrepreneurs at the vanguard of business.
This stunning sum was revealed today as the Annual Report (.pdf) of the University Enterprise Zone was published.
Firms developing artificial intelligence to connect driverless cars, ground-breaking robotics and impossible-to-hack legal recordings have all benefited from the scheme.
AVET Technology is amongst the incredible success stories that received life-changing investment and praised the support as "a torch in the darkness".
The Burnham-on-Crouch based business uses blockchain and state-of-the-art hardware to create recording devices which secure vital interviews to battle corruption.
It received a £50,000 convertible loan, an introduction to a network of backers and expert support from the team at the Innovation Centre, based at the University's Colchester campus.
AVET director Andy Stewart said: "The University of Essex has been a torch in the darkness.
"We've had some real difficulties in speaking to entrepreneurs and investors as there is such a lack of appetite in developing tech.
"There are a lot of companies like us with fantastic tech that can't find help.
"The University of Essex has been fantastic, we have retained our contact with the team there and are seeing other benefits which they are helping us develop.
"We have a very positive feel for Angels@Essex, this is a modern university, it is going places and it is growing."
Mr Stewart's thoughts were echoed by managing director Jerry Thornton.
He said: "We are experienced businesspeople, and we spent some considerable time talking to the apparent support networks in the UK.
"The University of Essex stands out as being significantly different and genuinely supportive."
Businesses listed on the Angels@Essex platform have raised over £10.2m through nearly 90 separate investments.
It is an invitation-only equity investment platform which links angel investors with innovative entrepreneurs with a focus on cutting-edge tech.
A further £5.9m has been secured by businesses working with the Space to Grow scheme, which offer businessowners 1-to-1 mentoring support, webinars and an opportunity to pitch to funders.
In total more than 22 jobs have been created, 11 new products have been launched and 25 R&D projects have been initiated in collaboration with academics.
Business Support Manager John Stenhouse welcomed the figure's announcement and urged entrepreneurs and investors to get in touch with his team.
He said: "The success of the ideas we assist, is in part due to the radical and creative way we address the problem of supporting highly innovative and scale-up businesses.
"We look to the future, levelling up funding for innovation not only in Essex but globally as the true solution."
The University Enterprise Zone (UEZ)) was launched in 2019 with Angels@Essex and Space to Grow based at the Knowledge Gateway research and technology park.
The UEZ has also seen the launch of improved wi-fi for visitors to the Colchester Campus which can be utilised by business visitors.
It was funded by Research England and supported by Essex County Council, the Confederation of British Industry and the South East Local Enterprise Partnership.
Richard Tunnicliffe, Director of the Confederation of British Industry in the East of England, welcomed its success.
He said: "Angels@Essex and the Space to Grow programme have demonstrated the need to raise funding for seed and early stage-equity finance.
"With exceptional ability, the University Enterprise Zone team have successfully brought investors and founders together in just one year to the benefit of the region and especially the local business economy.
"Having established a focal point for entrepreneurship and access to much-needed equity investment, the University continues to attract significant funding from around the globe."
We are pleased to have Angels@essex as part of the Innovation Centre if you want to know how to engage with us more or to take advantage of the Business Support we provide please contact us at info@innovationcentre-kg.co.uk  or 01206 405 500