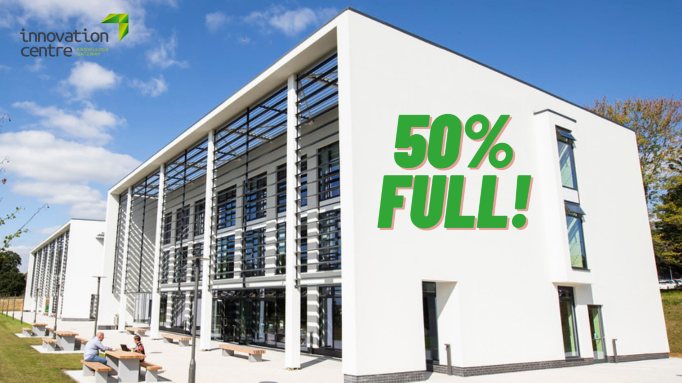 It has been a turbulent year or so for most businesses and we've felt the impact at the Innovation Centre Knowledge Gateway (ICKG) in Colchester. But what a difference a year makes!
Just over a year ago in August 2020, as the first UK lockdown continued to ease, we only had a handful of businesses, now we are building some amazing momentum.
With the new wave of digital flowing through business, we have seen over 18 new businesses enter the centre with a further 4 growing and upgrading office space in the year and another 3 right on the cusp as we write this. We are pleased to say as of the end of October we are 56% full!
We are proud of that achievement and there is even more reason to be optimistic with other businesses signing up in November and December.
Who is now in the centre?
We now have 31 amazing businesses physically within the ICKG, a further 7 virtual customers and 3 hot desk memberships (yes, we do it all 😉). This has created over 85 Full-time jobs so far.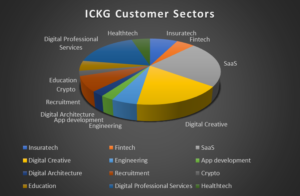 As you can see from the swanky chart above there are a few emerging sectors now developing here in the centre. The main ones are Software as a Service Cluster (SaaS), Digital Professional Services and a strong Digital Creative Cluster. This shows we are attracting the right talent to the area and our goal is to help keep that talent locally in Colchester and Essex.
What's the USP?
We see ourselves as a full-service ecosystem for scaling businesses and are more than just office space. And we can prove it 😉
Customers make good use of the services we provide, and we collaborate with them in several areas.
Business Support
All new businesses that enter the ICKG have a 1-2-1 meeting with our Innovation Director for a business diagnostic session to identify any ongoing needs. The allows us to identify where the company is on the growth scale and what Business support they might need. We can then tailor interactions to guide them to the next stage.
In total 138 hours have been delivered with 1-2-1 Business support sessions. These include:
Business Canvas Modelling
Brand and Marketing guidance
Direct Leadership Training
Internship, Apprentice and Kickstarter Guidance
Investment reports and Pitching for Investment
Recruitment and HR guidance
Business Growth mapping with our licensed GROWTHmapper tool
What is engagement like between the businesses?
The rate of recorded engagement between customers has grown significantly, with interactions falling into the following categories:
Purchase of goods and services between companies
Knowledge share between founders
Joint grant applications
Challenges/programme participation local and online
Mentoring during or following business support workshops
Using web development services internally
Digital Marketing services being used to help grow digital presences
Tenants using services such as Creative Quills on Parkside
ICKG businesses are using the Recruitment services of Total Assist
We mapped the number of collaborative interactions between ICKG businesses over this reporting period. We found that 17 of companies are working together and trading skills/services/advice. We are helping to drive this by facilitating Meet the Neighbour events and through our Innovation Director and Centre Manager.
Another massive benefit we have is, we are lucky that Barclays and Scrutton Bland also base themselves here one day a month to support the businesses, and we are very grateful for all their collaborative support.
Company progression
It is also worth noting that over this reporting period we have had 4 companies upgrade and expand their office after seeing the impact and benefits of being here and the business support in the centre.
In conjunction, 3 companies have increased their staff headcount since arriving due to the need for more desks/staff and company growth.
Funding/Investment successes
Numerous companies have been successful in raising finance through a variety of routes such as grants and equity. We have links with The BEST Growth hub, Angels@Essex, Anglia Capital, Innovate Edge/UK and even our Oxford Innovation fund with OION.
This helps us direct companies to the right level of investment needed for the business to scale and it works very well with companies gaining Innovate UK grants, Angel Investment and local government grants.
We are an Amazon partner
This means anyone that has a licence with us can tap into a significant amount of AWS credits to help their business with the Digital/Cloud storage side of business operations. A few businesses have already taken this up with more on the horizon, it is well worth being here just for this cost-benefit.
We put on a variety of events that benefit small businesses
From informal Meet the neighbour events where people trade war stories and services over pizza and beer, to meet-ups with Tech East and to more formal Masterclasses on specific topics, we try and cater for what businesses need to scale up. In the last year, we have put on 12 events and are now planning more for the rest of 2021/22.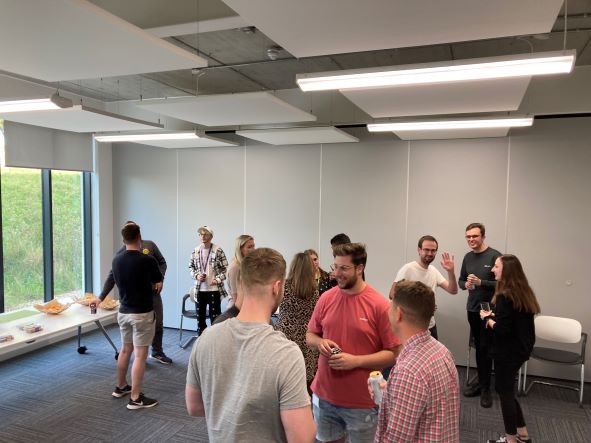 Customer Satisfaction
We are delighted to announce that in our recent Annual Customer survey we achieved a score of 92% satisfaction from our customers and we thank all our customers for their ongoing support.
"ICKG is a perfect place for any business. Apart from great office space at the heart of university campus, it offers access to exceptional business support services. The centre is more than just office space, with a real ecosystem of companies moving in the same direction."
Being part of the ICKG centre has been fundamental in the growth of Ubie Ltd. Having the expert advice of business coach Neil Griffin on-site and regular events organised by Georgina Watts, makes the ICKG centre stand out from a traditional office space.
"ICKG is a fantastic hub for all businesses in different industries to come together and make use of networking opportunities, communal space, and modern offices. There is no other office space that does so much for the businesses within it, to ensure everyone scales to their potential. The staff is fantastic!"
What's next?
Well, it is more of the same, continuing to support innovative businesses to grow.
There are more events on the horizon so please keep an eye on our events page.
We have a new addition in the centre with the University Knowledge Transfer Partnership team that supports businesses with links to academics for projects, and they are now No1 in the UK.
As more businesses enter the centre, we are looking at our own Peer network for founders to help them support each other and get inspiration (this came from a current customer suggestion).
We can't do this on our own and are a Magnet for support from Essex County Council, Colchester Borough Council, SELEP, Tech East, The BEST Growth Hub, Essex Chamber of Commerce, Innovate Martlesham and of course our partner The University of Essex.
Thank you to everyone who has helped us thrive this last year.
At the Innovation Centre Knowledge Gateway we are more than just office space, we can help you grow your business and help you collaborate with other businesses and the right organisations. If you are interested in how you can be part of the centre, please contact us at info@innovationcentre-kg.co.uk or 01206 405 500 for Coworking, Hotdesking and Private Office space to rent.