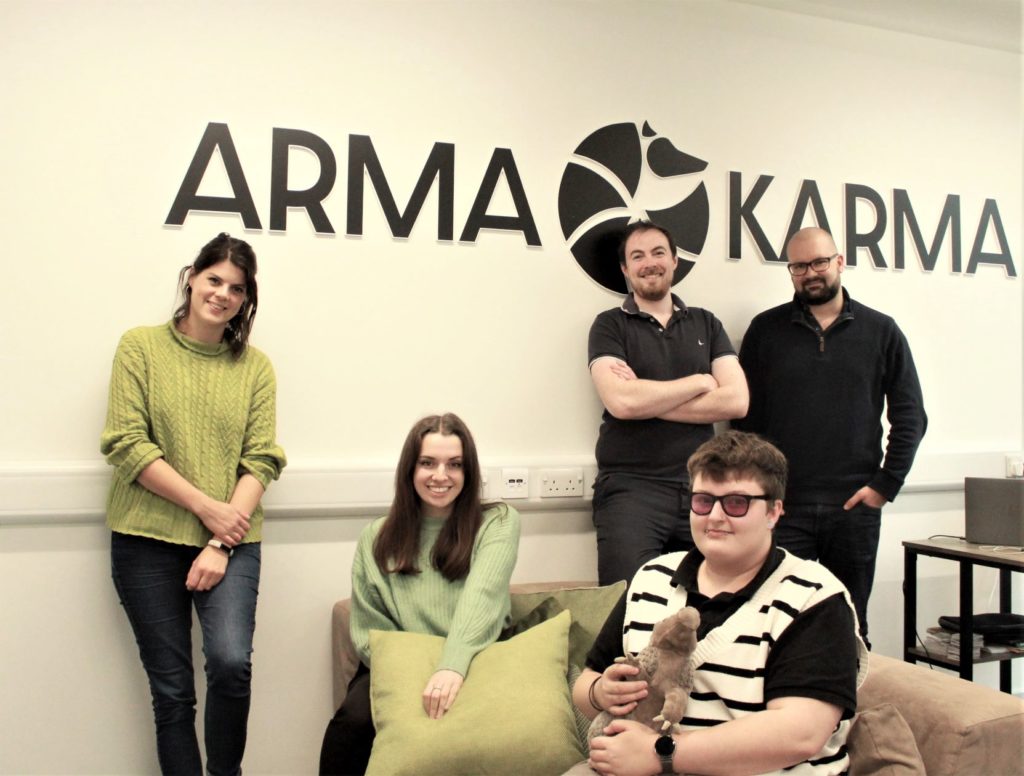 They may still have roots firmly in Colchester, but ICKG residents Arma Karma are spreading their message of a new kind of insurance, far and wide.   
Since their launch in April, the insurtech, which specialises in flexible insurance for renters, has formed partnerships in Europe, have been nominated for several awards, and are making space for new team members in their new office.  
Having spent two years in preparation for setting their flagship product live, experiencing setbacks along the way, 2021 is moving at a pace for the start-up. So much so, that they've already moved to a new office with more space at the Innovation Centre – a sign of the expansion to come.  
With two new team members, a partnership with a European media company, and four award nominations in the pipeline, Arma Karma is a company that has its eyes firmly on the prize.  
"There are a few other nominations we missed out on," Ben jokes, "but even being nominated alongside the big hitters in the InsurTech world is a huge boost for us." 
The winners for the Insurance Times Awards and Tech & Innovation Awards will be revealed in November and December, but not before the NOVO award at Chelmsford's Braxted Park, for which the team have already secured a classic award. 
And it seems Arma Karma has been making an impression far beyond their base at the Innovation Centre. Just a couple of months after launch, the business' innovative insurance service caught the attention of a Portuguese organisation.  
The business, which was to become Arma Karma's first overseas partner, saw the potential for rolling out the Arma Karma model in their own country, as Ben explains,  
"We were approached by a reputable company in Portugal who had heard about us following our extensive launch activity. Not coming from an insurance background themselves, they were keen to talk to us about a partnership that would facilitate a renters insurance solution in their country." 
Having built the company on ethical values, Arma Karma has welcomed new charity supporters with each signup. While the plan remains to rotate their panel of four partner charities each quarter with another four, the business has extended the first "stint" for Rainforest Trust UK, ShelterBox, YoungMinds and Railway Children. This is to give them the best opportunity to start seeing the donations coming in from subscribers, says Ben, 
"The number of subscribers is not going to be as high right after launch as it will be when we've been going for a while, so we just wanted to give those first charities a bit more of a run at it. We're having good conversations with them and our next charities who are still happy to join us on our journey, albeit at a slightly later stage."  
In the meantime, Arma Karma has been named among some of the most ethical insurance companies, where they scored top marks  on the Good Shopping Guide.  
So, will the next five months be as busy as the last? Or are things due to level out for Arma Karma as they continue to reinforce their message? With plans for a pricing restructure to make them more competitive, a digital journey overhaul, and preparations for a seed round towards the end of the year, it seems not.  
Fortunately, with more hands-on-deck in the larger office, the team are ready for the next flurry, as they work to ensure that more of the millions that are going without insurance are covered.  
At the Innovation Centre Knowledge Gateway we are more than just office space, we can help you grow your business and help you collaborate with the right organisations. If you are interested in how you can be part of the centre, please contact us at info@innovationcentre-kg.co.uk  or 01206 405 500 for Coworking, Hotdesking and Private Office space to rent.