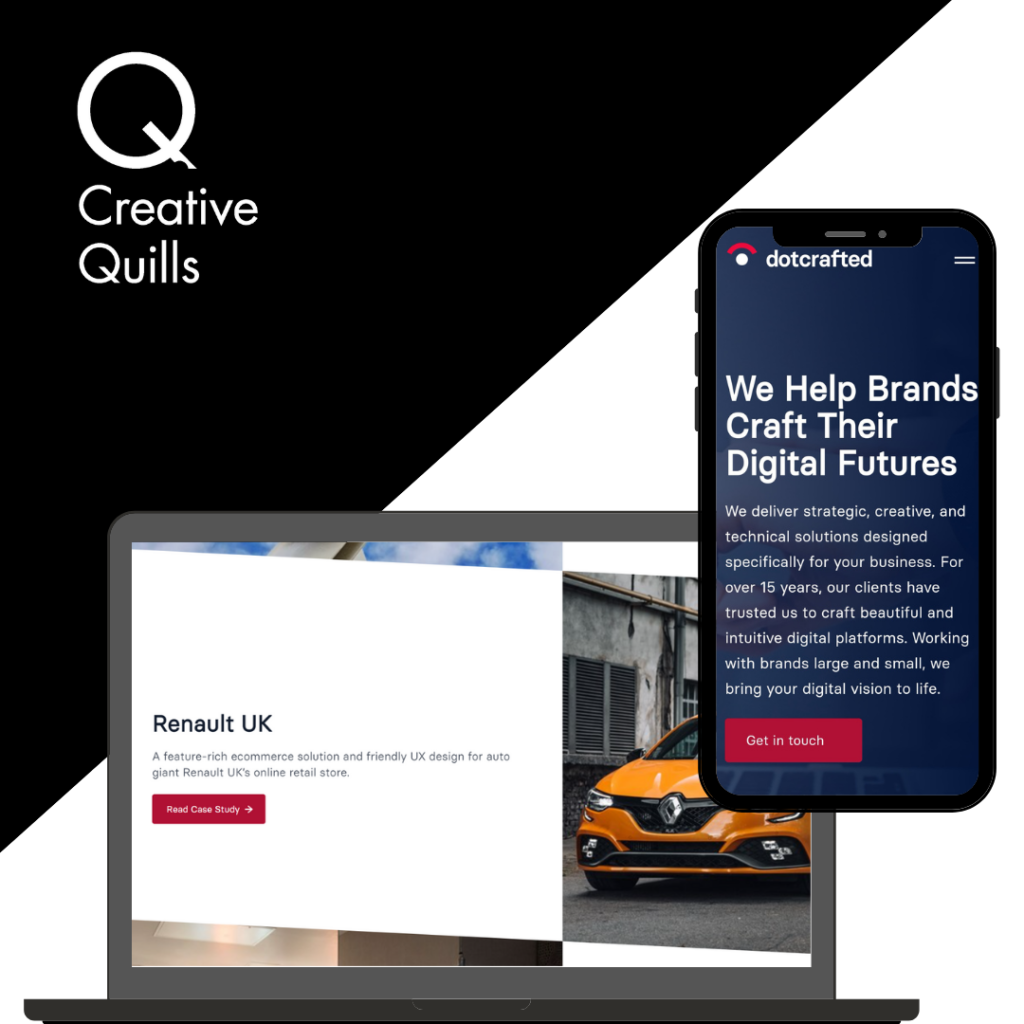 At the Innovation Centre Knowledge Gateway we love collaborations. Even more so when they are local companies coming together. Dotcrafted are based here within the centre and engaged local strategic marketing agency Creative Quills based over on Parkside to help with their new rebrand. Creative Quills have helped them to boost their brand presence online plus creating online content from scratch. They identified dotcrafted's core objectives, key messaging, and areas for growth.
This helped them to refine and clarify their brand vision. You can read the Case study below: 
Briefed _
Web development company, dotcrafted, were looking to grow their business and expand into new markets. With fifteen years' experience developing digital strategies for big brands, they needed help building their own brand presence online and creating a fresh new website from scratch.
Delivered _
Brand strategy
Project coordination
Content creation
Creative Quills led a strategic planning session to identify and develop dotcrafted's core objectives, key messaging, and target areas for growth. This helped the senior team refine and clarify their brand vision. It also enabled us to immerse ourselves in dotcrafted's values and deliver a website that fully reflected the high standards delivered to their own clients. We provided written content that creatively balanced the company's technical focus with its friendliness, approachability, and passion.
Operating a service-based model, with a portfolio of big-name clients, dotcrafted needed a series of impactful case studies to showcase their success stories. Using detailed questionnaires and interviews with senior stakeholders in dotcrafted's client base (including Goodwood Estate, Renault UK, and Z Hotels), we were able capture the benefits of their bespoke service offering.
Achieved _
With a vibrant new website and a clearer brand vision, this dynamic web agency is now well-equipped to reach new audiences and scale their business.
Quoted _
"Creative Quills have been a real pleasure to work with. They did to a great job with understanding our business by asking the right questions at the right time. Moreover, the passion and dedication of the entire team are second to none. The results have exceeded our all expectations!"
Maciej Golis, Co-Founder and CEO
At the Innovation Centre Knowledge Gateway we are more than just office space, we can introduce you to people and businesses that move your business forward. If you are interested in how you can be part of the centre, please contact us at info@innovationcentre-kg.co.uk  or 01206 405 500 for Coworking, Hotdesking and Office space to rent.