Having joined the Oxford Innovation team this month, we sat down with Innovation Centre, Knowledge Gateway's new Centre Director Dan Smart, to find out a bit more about him and how he is getting on so far.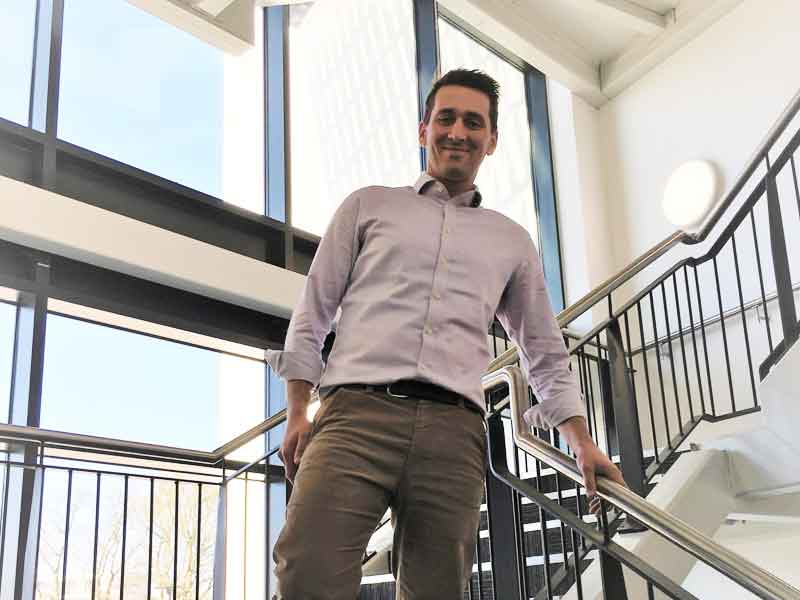 1. What is your background and what did you do before this role?
I originally started in outdoor education, running a large outdoor centre, where I spent many years delivering developmental, technical, and exploratory courses for young people and adults. This often found me running around the mountains of UK and Europe or sitting in a canoe on expedition when I wasn't running the centre. Following this I took a role in a start-up company where I built and operated a training and consultancy business delivering specific industry fit courses and operational support for a wide variety of clients in the renewable energy sector. Here I sat on trade association panels where I supported the growth of safety training across the industry and the development of standards recognition across UK and Europe. Since then I've spent time away, across varies continents focusing on adventure travel and in between I've been working as a consultant in the construction industry before moving into the Oxford Innovation (OI) team.
2. What attracted you to this role at Innovation Centre, Knowledge Gateway?
Oxford Innovation came across as an exciting company to work for, a business driving forward and seemed to have plenty of opportunities for their staff and some exciting projects in the pipeline, not to mention the Innovation Centre, Knowledge Gateway (ICKG) in Colchester. The role seemed to align well with my skill-set but moreover the company's vision and ethos matched my personal aspirations of supporting start-ups and businesses in their early growth stages.
3. What are you looking forward to in this new role?
As I answer these questions I can hear the echo of contractor's voices bouncing around the blank walls….We're not open yet, and the centre is crying out for some life in it, I'm looking forward to welcoming each and every new business through our doors and building a vibrant, collaborative community for them to work in as well as a wide network of support outside of the centre in the wider community.
4. What are your aims?
I know how hard it is to get a new business off the ground, and equally how hard it can be to make the transition from working in coffee shops and at home to your first office. My aim is to make sure that ICKG supports a seamless transition for any new customer and adds value to our future community by working closely with The University of Essex and our in-house Innovation Director. I want to make sure our community has all the support it needs to achieve more.
5. What do you do in your spare time?
My outdoor education background has left me with a lot of adventure sports as hobbies but living in Essex it's challenging to go out and climb a mountain. I try and get out and about as often as I can and attempt to combine my love of these sports to use as a vehicle to travel. I also enjoy all the good things in life and keep myself busy with those that are close to me but It's fair to say the next adventure is always in the back of mind….
6. What are your initial impressions so far?
It's always hard starting a new role; so many names, systems, clients…it's never ending, but the support from everyone at OI has been great. I've been to other OI centres and met lots of people and my impression so far is the team has an overwhelming passion for what they are doing in support of their centres business community.
ICKG, whilst still in its last stages of completion looks brilliant and the support from our partners at The University of Essex has been great. I'm really looking forward to supporting our future innovative community, utilising university capabilities and Oxford Innovation's experience and passion in building a hub for innovators to thrive.
Innovation Centre, Knowledge Gateway is the bold new home for technology business in Colchester, Essex. At Innovation Centre, Knowledge Gateway, we build the potential for success from the ground up; from flexible office, coworking, meeting and conferencing spaces to professional mentoring and support. All backed up by access to world-class research and learning at the University of Essex.
Interested? Find out how we can support your business at innovationcentre-kg.co.uk