SGPT (small group personal training) specialists, Quoox, chose the Innovation Centre in Colchester as the base for their transformative business, taking up residence in March 2021. The business was started in 2018 by co-founder Chris Windram & Ben Brand, driven by a desire to help small group gym owners raise the standards of service within the industry – benefitting both the training facilities and the members that they serve.
Confronted by the challenges of the COVID-19 lockdown mere weeks after the formal launch of their flagship product, Quoox found itself unexpectedly well-placed to assist the fitness industry during difficult times. The company is proud that several of its clients have expressed that, had it not been for them using the Quoox Gym Management System, it is likely that they would not have been able to pivot as they did – and they would likely have faced an uncertain future.
With the fitness industry recovering and ample evidence that it is likely to resume the rapid expansion trajectory it was following pre-lockdown, Quoox has seen strong adoption of its Quoox GMS platform.  During this time the product has continued to evolve to meet both the current & future needs of its clients.  In doing so, it has seen many of its clients successfully grow their businesses – increasing profitability, whilst maintaining the highest levels of service to their members.
Inherently, the fitness industry tends to be focused on new member attraction. This is something that Quoox extensively supports for its clients, but the company is unrivalled in its approach to ensuring that gyms can maximise their member retention. By achieving high retention rates, gyms can grow their businesses, rather than just backfilling member attrition.
July 2022 saw the company take the next major steps toward its long-term plan.
Firstly, the company released Quoox GMS Ultimate – the most comprehensive management software for small group training gyms available on the market. This is built upon the well-respected Quoox GMS product, adding innovative AI workflow processes – enabling clients to stay on top of their lead & member activities; maximise engagement; build & re-enforce community; and, most importantly, to keep members renewing.
Having established a firm base on delivering a high-quality software solution to boutique gyms, Quoox has now embarked on the next stage of its growth plan with the introduction of Alchemy. In a nutshell, this comprehensive new service provides SGPT gym owners with everything they need to operate their facilities effectively & profitably.
With Quoox GMS at its core, the company's Alchemy product suite helps gym owners transform their businesses from "good" to "great" – unlocking their ultimate business potential and turning it into 'gold'.
SGPT Infinity, the premium Alchemy offering, combines the might of the Quoox GMS system with a vast spectrum of pre-written, branded resources – including a comprehensive exercise library; pre-written programming; nurture programs; advertising campaigns; business documents, such as forms & contracts; recipes; and so much more. This is then backed by extensive coaching and mentoring, in the fields of sales, fitness, and business operations.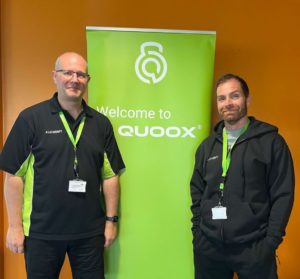 Chris Windram, co-founder and CTO of Quoox, explained that the company had benefitted so much more than they had expected by selecting the Colchester Innovation Centre as their base.
Chris commented, "selecting the Innovation Centre as our UK HQ is one of the best moves we have made. In developing our Alchemy services we have been able to work with Essex University, benefitting from the talents of several of their Sports Science students. In fact, we were so impressed by the calibre of those we worked with that we have employed two recent graduates to join the Quoox team.
For us at Quoox, it is about the 'who'. We recruit the right people, knowing that they will naturally find a place in our team and assist us in our mission to help SGPT gyms reach their full potential. Our business is very much built upon its people, and I am very proud of our team. Our activities are further aided by the fantastic team at the Innovation Centre."
As the company embarks on the next stages of its planned growth, Chris has an optimistic outlook, "I am excited by what is happening in the fitness industry, and the role we are honoured to be playing in it. Big box gyms are now becoming wise to the importance of small group training and delivering a higher level of customer service. We maintain our resolve to ensure that we not only meet the needs of the sector, but that we continue to predict and lead."
With Quoox's client base and employee headcount continuing to rise, the flexibility of the Innovation Centre proves the perfect platform for the company's continued growth.
If you want to know how you can engage with us here at the Centre or looking for more than just office space give us a call or drop us an email, we would love to hear from you. Please contact us at info@innovationcentre-kg.co.uk  or 01206 405 500 and we can show you around.