We recently caught up with the Founder and Director Beth May who is an experienced designer based right here in Essex at the Innovation Centre. 
She has worked with some of the biggest brands in Fashion, Beauty, Entertainment, and now turning her exceptional talents to the gaming industry. 
She talks about her journey, future aspirations plus the social good that she is passionate about delivering.
It is great to have you in the building, tell us a bit more about yourself and the business? 
It is great to be here! So, I'm Beth-May, director of Beth-May Design. The business, as you can see in the name, is really just me! I specialise in UX (User Experience) & UI (User Interface) design for digital products. This can include web, apps, games plus other interactive journeys. I've recently made the decision to start moving more permanently into designing for the gaming industry and wishing to work with game studios up and down the country. 
I've been in the industry for nearly 7 years now and have been fortunate enough to have worked for some top household names such as MINI, Benefit Cosmetics, The North Face, Wella, and recently Jaguar Land Rover.
Across all of those fields, I'm driven by a deep curiosity about how humans interact with tech, and how tech can make those interactions more enjoyable, efficient, and easy. 
I'm also a big believer in social good, and often encourage, volunteer, or just consult on projects that are trying to benefit the planet as a whole.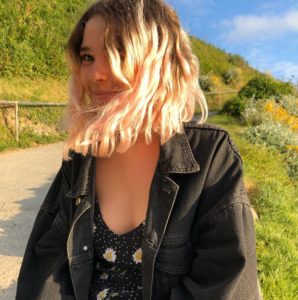 Can you briefly explain what UX & UI is?
UX is the User Experience and UI is the User Interface. 
Or in simpler terms, Aesthetics, and Functionality. One half is about fulfilling the end-users needs through thought-out journeys and structure and the other half is about solidifying a brand through design elements, making it look good with type, imagery, iconography, and motion etc.
UX & UI is everywhere, not just in digital products, the same rules apply to many everyday user needs. My favourite example is the Heinz Ketchup bottles! (Stay with me…). 
There is the squeeze bottle that's super easy to get ketchup out of and overall is a great user experience… but most would agree that the glass bottles are more pleasing to look at. Although it's extremely frustrating trying to get what you actually want out of it! That is a very simple explanation of UX vs UI, and sometimes it is hard to find the right balance. 
That's where I come in, as an expert in juggling both.  
Can you tell us what are you working on at the moment? 
I have actually just finished a contract working with Jaguar Land Rover, although I can't go into detail due to NDAs (which are very common in my field).
Currently, I am working on a project with M&C Saatchi on some initial concept designs for one of their top clients.
But my goal is breaking into the gaming industry, and it is great to be working with an exciting indie games studio based in Essex. Alongside researching and exploring current trends and games.
Why do you want to move towards UX & UI for gaming?
I've always been a big fan of games in general. I've always been fascinated with the idea of creating whole worlds and creating your own rules. I'd love to have an impact on how people interact with those games.
They are very creative projects to be a part of. Working alongside artists and writers is sure to creatively inspire me and also gaming is everywhere, and it's not going anywhere. It has a lot of possibilities and I want to be a part of the journey as it grows. And there is a passionate audience that I would love to design for.
What do you think makes you stand out in the world of UX and UI? 
I'd like to think I'm a good people-person who can communicate well to highly experienced teams, and being able to walk into any room with the same amount of enthusiasm has done me well thus far. 
In essence, I can get to know a brand and its needs very quickly, which is a skill I've picked up through many different contracts and briefs  in broad sectors and I'm not afraid to experiment and go out of the box. It is also worth mentioning I have motion design skills that help to in-vision for the long term.
And lastly, being a young woman in the industry gives me a good perspective that some teams in some industries may not already have. I've gotten very used to working as a woman in a male dominated digital industry, and it's definitely given me experience in making sure my voice is heard!
What made you decide to join the ICKG? 
During the pandemic, I found it hard being on my own all the time. No one to bounce ideas off of and no one to talk about my weekend to! The innovation centre's offices are perfect for someone like me who needs a reasonably priced space to work and some like-minded company!
It is an amazing place to meet new people, connect and network with other businesses plus collaborate with other creatives. 
It has also helped me to find new and exciting opportunities that I might not have had exposure to.
What would you say to a growing business that is considering moving to the ICKG? 
Definitely do it! Being around similar businesses is motivating and inspiring. 
You and your business will benefit from being here due to being surrounded with support from the ICKG.
So, what's next for Beth-May Design?
I have calls with various games studios looking for my next big project alongside looking into some other UX & UI work for the coming months. If anyone is looking for their next game designer, please reach out!
I'm looking to expand my business beyond UX & UI services and creating and selling some online assets for other designers to use as well as selling some original art collections & pieces.
Travelling around in my van for a well-deserved break!
We are proud to have Beth and Beth-May Design as part of our exciting community, you can connect with her here on Linked In 
Please contact us if you are interested in being a member here, where we can set up a tour of the centre and its facilities. Please contact us at info@innovationcentre-kg.co.uk  or 01206 405 500 for Coworking, Hotdesking and Private Office space to rent.