We pride ourselves on putting on not only business essential events but also interesting Meet ups and expert Masterclasses from industry experts that deliver impact to Start up businesses. We believe these add value to our offer and give businesses owners and founders 'tools' that they might not have access to otherwise.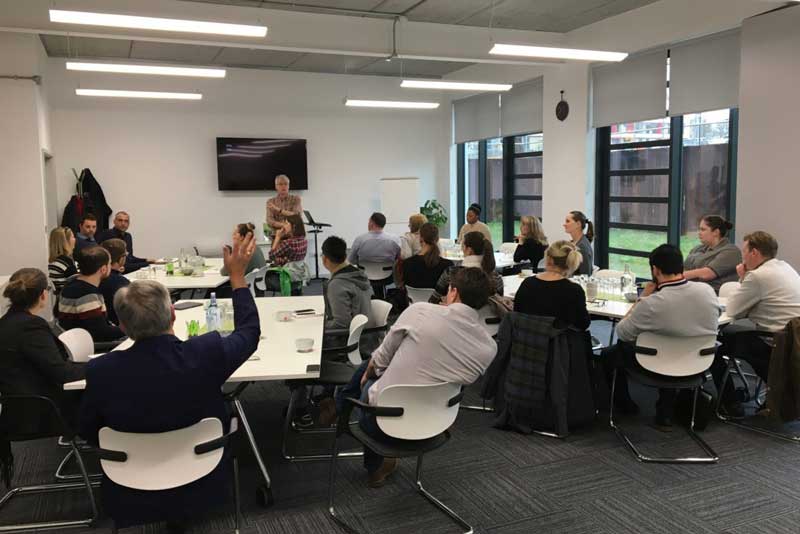 During 2019 we held 28 events (since opening in late June) here at The Innovation Centre in our multifunctional meeting and conference spaces. These have ranged from regular Meet ups, Tech + Toast (Tech East), The Informed Entrepreneur (Relocon) and The Essex Cloud (Innovative Creations). We have also held Innovate UK loans briefings, Tapping into the University talent pool, Google Digital Garage and Computer games launches.
Masterclasses
Part of what Oxford Innovation offers is access to a wide range of business masterclasses which are wrapped up in the service offer we provide; these tend to be more specialist to have real impact in a start-up business. These have included Investment readiness with OION, Brand discovery delivered by Wolff Olins, Generating sales through social media by Ventura Digital plus sessions such as Mindspan to help drive mindset and drive productivity to achieve goals. The impact of these specific events is
We have had the pleasure of engaging with over 1000 attendees over the course of all our events and the feedback has been excellent with businesses gaining knowledge, interacting with likeminded businesspeople plus taking away things that can have a positive impact on their business. We don't want people to come here and think 'So what?' they need take ways that are practical to scale up.
Our main role is to help scale these businesses and be that sounding board for advice in all aspects of business development to make an impact, strive for results but above all grow the businesses sustainably. By being part of the wider Colchester ecosystem we want innovators to engage with us and keep talent within Essex, as we believe we can make a difference locally.
Why spend your time trekking to London or sitting in a coffee shop locally when you can come and engage with us in an amazing building like this, there is such a good feel and buzz about the place.
So what is next?
We have exciting things planned for 2020 our three Meet ups will continue, and the timings are below:
Informed Entrepreneur – last Wednesday of every month 7.30am
Tech + Toast – the third Friday every month 8am
Essex cloud – every other month on the second Wednesday 7pm
We also have plans for a VR, AR and Mixed reality showcase during the first quarter as well as Games and app development, AI/machine learning plus more practical and inspirational sessions on Leadership, Investment, Marketing and Strategy that can deliver value and that can be embedded within a start up business, so keep an eye on the website, social media channels and the newsletter.
Can you see yourself at Innovation Centre, Knowledge Gateway? Arrange a tour with Dan Smart and the team by calling 01206 405500 or visit innovationcentre-kg.co.uk to find out more.