Want to make your business successful? Are you running a business from the living room? A sofa is no place to build a business to its full potential. Daily commutes to London are tiring and time-consuming for business owners. Innovators deserve an accessible, established workspace to make the most out of their ideas and scale their business to its full potential.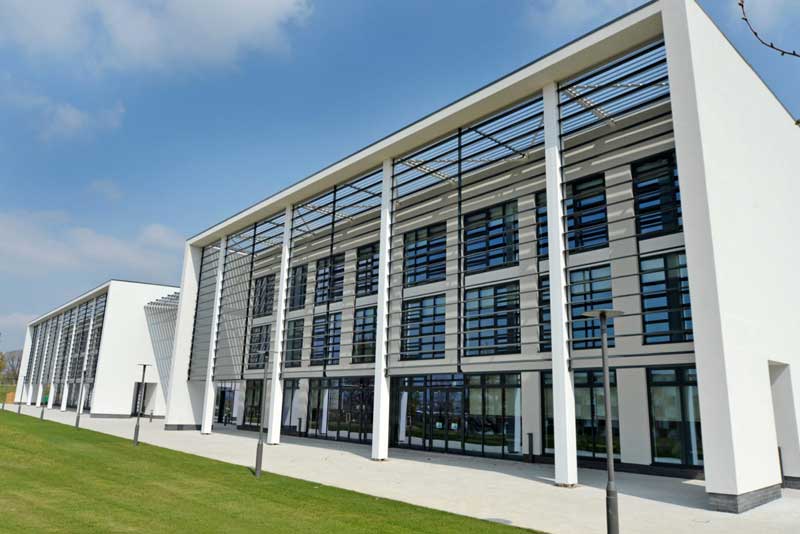 The Innovation Centre, Knowledge Gateway is a stepping stone for your journey. With space and guidance that flexes according to your needs, you can build your business at your own pace. The ICKG tailors everything to you.
The Innovation Centre, Knowledge Gateway offer innovators a range of options:
• An open, dedicated working space to get started
• An area within a large office, shared with other local businesses
• Offices to call your own in varying sizes
With exclusive access to events, a tenancy at ICKG gives you the opportunity to engage with a wide range of other successful businesses. These tenant-only networking events allow you to develop your contacts and become part of the growing scene for innovation in the East. Members also have the ability to host events, making themselves known and forging their own connections.
Greater Opportunities
The Innovation Director, Neil Griffin, gives commercial and strategic business support to all tenants, free of charge. He states: "My goal is to help every business in the ICKG scale up as quickly and sustainably as possible. I offer advice, connections to regional networks and signposts to local experts in the area." Whatever queries you may have, there is a tailored solution.
As a business mentor, Neil will help you make connections and help promote your business. He personally introduces your business to potential clients in your service area. Griffin continues: "By providing masterclasses on a variety of disciplines in the Innovation Centre, it gives entrepreneurs, innovators and start-ups access to exclusive resources and add value to their businesses"
Funded interns, KTPs and placements – strong connections with the University of Essex allow for these growth advantages. The ICKG have a wide-spread partner network. Partners such as Tech Nation and Tech East offer 'scale-up programmes' for businesses to develop and expand. With funding streams supplied by Innovate UK and the Enterprise Europe Network providing international business growth opportunities, the ICKG gives you the resources to make your business flourish.
New funding from the Government Enterprise Zone has created even more opportunities for tenants of the Innovation Centre. They plan to deliver an 'Angels@Essex' crowdfunding platform, in which Angels can invest in your business, supplying the finance needed for business ideas to become reality.
New Workspaces for You
Adding luxury to the workplace, the ICKG give 24-hour access to modern facilities. This includes stylish, relaxed workspaces and discounted specialist coffee served with fresh, handmade food. You will also have access to the wellness centre and activity hub where you can kick back and play table tennis or work at the treadmills with built-in desks.
It's not only your business that benefits from ICKG occupancy. Being a tenant of the Innovation Centre instantly makes you part of the University of Essex community, in which you are invited to university events, and have discounted perks. One of which is the gym, offering a chance to remain active and destress regularly. Another perk includes discounted offers at the University nursery so little ones can be dropped off conveniently and remain nearby at all times.
Experience the advantages before settling in. With 30-day flexible terms, you have the opportunity to get a feel for your surroundings without making a long-term commitment. You'll soon find your place within the Innovation Centre, making the connections you need to help your business succeed.
A tenant of the ICKG, Research Director of Agile Research,  Nick Richmond said: "We didn't fully realise the benefits of moving to the centre before we came. The weekly programme of speakers and events is relevant, interesting and diverse. There is also an informal culture of skill sharing and support from other innovators at similar stages of development.
"Being on campus has given us access to resources we never thought of. In five months, we've engaged with the Business and Local Government Research Centre, User Lab, intern and mentoring programmes, been guided around Government funding initiatives and much more.
"We love the healthy and diverse environment with its yoga classes, plant swaps and cake bakes. A few supportive words over the pool table or sharing a favourite book can make all the difference."
Can you see yourself at Innovation Centre, Knowledge Gateway? Arrange a tour with Dan Smart and the team by calling 01206 405500 or visit innovationcentre-kg.co.uk to find out more.