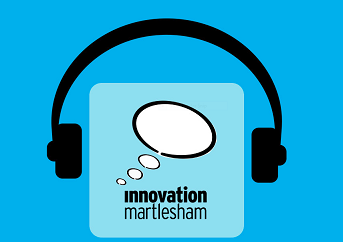 Author: Neil Griffin, Innovation Director
Having known Nicky and Jim at Innovation Martlesham for a couple of years they invited me to be on their podcast to talk about what we have going on here at the Innovation centre in Colchester.
Both The Innovation Martlesham team and the BT team popped over to visit us towards the end of 2019 to see how we can link up more and collaborate, so it is nice to touch base at the start of 2021.
In this podcast, Nicky begins by asking me about what facilities are on offer here at the Innovation centre and the sectors being focussed on. We talk about the work the centre does with Essex start-ups and in particular talks about the Studio X space for students that develops business ideas, for entrepreneurs to connect with the University and for Essex to showcase its research in the creative and digital sectors.
I talk through the academic support available and on-campus resource, with the podcast concluding with me explaining what it would mean to anyone interested in joining the Innovation Centre?
There is more to us here at the centre than just pure office space, the enabling factor of people working together both physically and virtually plays a massive part in the success of small businesses located here.
Take a listen and tell us what you think 
If you are interested in how you can be part of the centre please contact us at info@innovationcentre-kg.co.uk or 01206 405 500