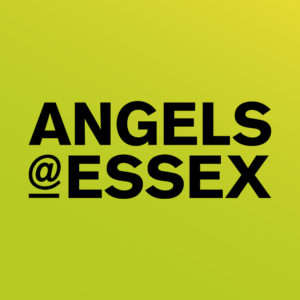 Since launching in May 2020, Angels@Essex has supported over £11 million in investment funding for innovative opportunities and welcomed many innovative businesses and investors onto the platform. We checked in with them to see how things are going and what the opportunity might be for 2021.
What is Angels@Essex?
Angels@Essex is an investment platform that links Angel investors to Entrepreneurs with innovative ideas, allowing new disruptive technologies to flourish.
It is headed up by John Stenhouse as part of the University Enterprise Zone (UEZ) which is based in Studio X inside the Innovation Centre on the Knowledge Gateway. John has vast experience in the understanding of commercial business alongside public sector business support and is a champion in creating sustainable economic growth.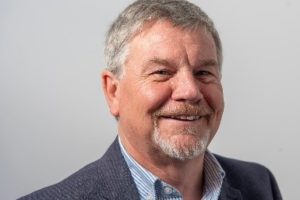 John Stenhouse, Business Support Manager, University of Essex
How has it been going since the launch?
The platform now has over 70 registered Investors with £642,000 pledged for investment. There are currently 27 opportunities seeking £13 million investment registered on the platform.
The interest has been good and there have been 135 founders' enquiries (seeking support) and over 342 mentoring sessions that are provided by the expert team. The team includes Entrepreneurs in Residence, University fellows and top business advisors.
They have assisted businesses that secured over £11 million which has been invested into Innovation since May 2020.
The most notable win has been Conigital Ltd. raising £1M+ in one day on SEEDRS using a pitch deck supported by UEZ team (this has now raised over £2.1M).

The Space To Grow programme sits alongside Angels@Essex, how does it fit in?
The Space to Grow programme has been integral to getting visibility for Angels@Essex. The premise is that the University Enterprise Zone and Essex Start up team bring you a fully funded programme of support for entrepreneurs and investors. Whether you are fine-tuning your USP, perfecting your pitch, or gearing up to make an investment – the team of experts is here to help.
Going from strength to strength
Since March 2020 there have been 34 webinars with 589 individual attendees, 3 live pitch events and 7 UEZ awards totalling £150,000. You can find a lot of these sessions on their Youtube channel and they range from Investment readiness, Pitching for investment to the latest trends in Social Media.
What is the plan for 2021?
More of the same with the team continuing to push the boundaries in Essex with regards Angel investment, business support for Entrepreneurs and interesting events. We see the platform going from strength to strength as it builds through 2021 and beyond.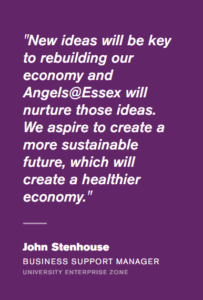 You can find some of the amazing opportunities featured on the Angels@Essex platform on their website.
If you're interested in finding out more about the Innovation Centre offer, please reach out to Georgina Watts at g.watts@oxin.co.uk 01206 405 500