We are delighted that awarding winning healthcare company Protlab GPL are now part of our community here at the Innovation centre. They are doing some really interesting stuff in the Biomimetic space, so we caught up with bioscientist and Chairman Walter Battistutti to find out more.
Can you share a little bit about your business?
Protlab GPL Ltd is an award-winning bioanalytical Med Tech company with the focus to identify and explore problems in Agriculture and Healthcare, in particular, Public Health. Protlab GPL Ltd has been utilising the concept of biomimetic properties to research and develop innovative, interdisciplinary solutions in collaboration with academic institutions and commercial innovative expertise. Founded in 2014 by a team of Cold Spring Harbour Laboratory members with utilising the concept of biomimetic properties with the main focus on "Biofilm profiling", which personal interest started during my post doc time in the San Diego Zoo.
What are you working on at the moment?
The main product we are working on is our portable UV-C Room Sterilizer Research. We built the first prototype 2019 and first devices were sold to the Eire Ambulance service as well as Medical Clinics in Italy through personal contacts. The unit uses Ultraviolet Germicide Irradiation which is used in hospitals and destroys air-borne microorganisms.
Following evaluation and feedback, potential contracts are being explored to protect front-line NHS primary care settings. But it can also be used in more mainstream properties such as hairdressers, offices, Dentists or Gyms etc
We have also been awarded:
Leaders in Bioanalytical Testing 2019
Best Early-Stage Biotechnology Company – UK
Most Innovative CVD Technology Platform 2019
2020 Bioanalytical Testing Specialists of the Year — GHP International Life Sciences Awards
2021 Biotechnology Awards – Leading Specialists in Biofilm Profiling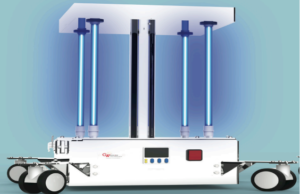 Portable UV-C Room Sterilizer
Why did you decide to join the Innovation Centre?
Our company has focused on collaborative ventures with both academic and commercial organisations to create products, which have led to several patents. We think that positioning ourselves at the Innovation Centre in Colchester will help us to open doors and expand our product.
What do the next 6-12 months look like for Protlabgpl?
Obviously, we are on a bit of a sales drive with the Portable Unit to get that out to as many business premises as possible.
We are keen to explore further interests related to biofilm – intracellular and extracellular hitchhiking through messengers and currently investigating the biofilm structures in relation to Covid-19 and potential mutations.
We are delighted to have Protlab GPL based here at the Innovation Centre. If you are interested in how you can be part of the centre, please contact us at info@innovationcentre-kg.co.uk  or 01206 405 500 for Coworking, Hotdesking and Office space to rent.