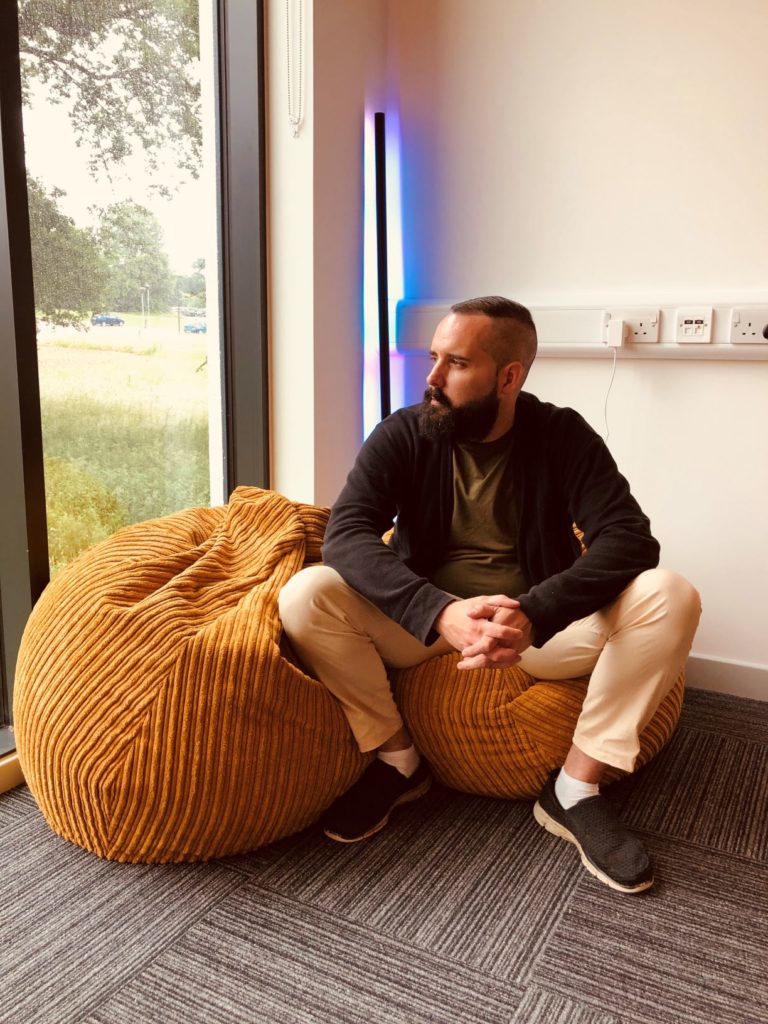 Private Space Therapy is a little different from the usual businesses that enter The Innovation Centre. But with well-being and Work-life balance has never been more on the agenda we see them as a great addition to the community here. Growth and Innovation come in many shapes and sizes and we are proud we are attracting this type of business to our ever-growing space. 
Can you share a little bit about yourself and your business? 
Becoming a therapist was a U-Turn having had past experience in the London financial markets and manufacturing. After some soul searching, realising I didn't truly belong in either, I decided I liked people more than things if that makes sense? The relationships I formed were always more meaningful than the work so a lot of time went into what field I would feel that passion and energy with. Having suffered for a short period of time with my own mental health, I found a wonderful therapist who helped me in ways that I didn't see coming. Suffice to say, the penny dropped…if I can do for others what she did for me, I'd consider myself lucky to be in a privileged position to do so. After four years of training as a 'person-centred therapist' to gain my BACP (British Association of Counselling and Psychotherapy) membership and accreditation…here I am. 
Your business is a little different from others we have here, what do you see as your USPs?
It is, it's very different, but fundamentally business is all about relationships, regardless of the focus it. In many ways mine is the same. What therapy offers, what I offer, is a place to come to that is convenient, flexible, calm, safe and above all private to talk with absolute honesty and without any judgement whatever it is you may be holding within you. I cater for all adults, of any background but acknowledging that everyone's challenges, that……thing…. The feelings…you may be holding on to are totally unique to you. I really get this. I always say to my existing clients, and to anyone thinking of entering counselling, you are the expert on you, not me. I can't promise to solve all problems, but what I can promise is that, in honesty, in trust and through the development of our therapeutic relationship, we can discuss what solutions and different perspectives might look like from your frame of reference. You are at the centre of the work, not me…always. 
What are you working on at the moment?
I have now developed my website which is now live and has an easy booking system and tells you a little bit about who I am as a person and a therapist. I have finished with my office which I want to be inviting and calm because, for the time when clients are in it, it's their room, not mine. (Feel free to come up at F14 anytime and see what you think, I'd love the feedback) 
Also, I am navigating social media with daily blogs and information on Insta , TikTok and Facebook. I'll be honest, that's a learning curve as I've traditionally never used it, luckily for me, my wife rocks at it, well she rocks at everything actually, and is thankfully naturally patient, so she has become my social media 'mentor'. 
I am also working at collaborating with various entities to get my name out there. One of the issues in my field is finding a therapist and then deciding whether you can form a trusting relationship with them. I remember when I went to see mine for the first time, it was a coin flip. What did they sound like? What did my gut tell me from a picture and bio on a webpage? I want to change that so that potential clients know me a bit before they decide to meet with me. Trust and faith are everything in my field. We sink or swim by it. 
Why did you decide to join the ICKG?
Firstly have you seen the building! It's beautiful!! Modern, easy to get to, many points of access via bus and car, or a simple walkover. Talking to Georgina , Bryony and Neil about the opportunities for collaboration between other businesses, networking so people know that I'm here and just…..what's the best way to describe it….my first gut feeling walking into the building. When my wife and I brought our house, we walked in and within 15 seconds we thought 'YES, THIS ONE'. I thought the same when I walked into the innovation centre 
What would you say to a growing business considering moving to the ICKG?
Forming relationships is everything. I'm not just saying this as a therapist but as a fledgling business. You are who you talk to, who you interact with and the ICKG offers this oven ready to other forward-thinking, collaborative businesses. In fact, I've already set a meeting next week for collaboration on the internet presence and optimisation with Greyzip….something that wouldn't have been available to me otherwise. 
What do the next 6-12 months look like for the business?
I can't say what will happen, as this is ground zero for it. Week 1. But all going well, and with the plans, I have in place I want to create an accessible, busy private practice that has a high yield of returning clients. Returning clients means the therapy is working, and with my adaptable, flexible approach to when and where we can meet ( which is necessary due to people wanting to access my service in the evening after work), I hope to grow to a point where I can think about bringing in other, well trusted, highly qualified therapists that may offer different forms of therapy ( there are many). But as for now….my goal, is to let people know…in the most simple sense……here I am and how can I help?
We are excited to see where Ben and Private Space Therapy go next. If you are interested in how you can be part of the centre, please contact us at info@innovationcentre-kg.co.uk  or 01206 405 500 for Coworking, Hotdesking and Office space to rent.