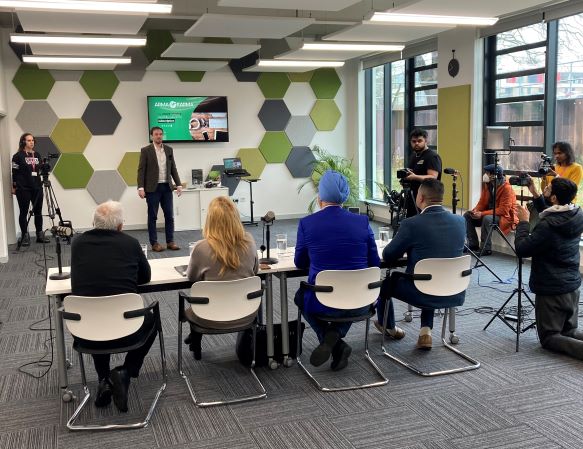 At the start of this month we welcomed Brit Asia Tv to the building . They were partnering with Angels@Essex to showcase a pitching event to broadcast on their channel later this year.
Ten businesses took part in the televised pitch day here at the Innovation Centre Knowledge Gateway on the the University of Essex's campus and will now see their presentations featured on Brit Asia TV.
The businesses taking part were working in a variety of sectors and were pitching their ambitious plans to four experienced investors. Read up on each of the businesses who took part before watching it on Brit Asia TV:
Arma Karma
Insurtech set on doing things differently. Their mission is to bring some 'Good' to the sometimes unethical world of insurance. You can contribute to charity donations and tree planting by buying a monthly insurance subscription. With Arma Karma, it is possible to protect what matters most!
LimboTech
When creativity meets Digital Technology, great things happen! LimboTech produce innovative, interactive and exciting inventions that entertain, inspire and educate. LimboTech specializes in working with Motion Capture, VR & AR, Interactive artwork and also heads up its own education division providing workshops focused around making computer science fun, creative and accessible.
WYSPR
Can anyone be an influencer? With WYSPR, the answer is yes! Instead of working with influencers to push products with forced social media friends, WYSPR introduced an alternative new marketing strategy termed "Friendvertising". By using data analytics, real people with real friends can promote products. Authentic and successful promotion is guaranteed!
Kestrl
Kestrl are helping Muslims to achieve their financial goals without compromise by providing an app that helps Muslims to Budget, Save and Invest in line with their values.
Kubos Semiconductors
It can be surprising how much potential do LEDs have. Kubos wants to use it to transform the future of LEDs. With new technology, it is possible to save 600M tons of CO2 emissions over five years and change the future of the LED market.
Kwoter
Formed to enhance and revolutionise the non-standard Insurance sector by bespoke computer technology. Kwoter offers a faster solution for quoting insurance products. It enables brokers to give instant online prices for all unique products to their customers.
Verv
Using Artificial Intelligence to create smart and sustainable A/C and Heatpumps. Team of Data Scientists and Machine Learning experts specialising in data analytics in the energy sector introduce the innovative solution of saving energy.
EvenLina
From now, while wearing compression shapewear, everyone can feel exceptionally comfortable without compromising on style. Each of their clothes is an elegant combination of shapewear, sportswear and medical compression. EvenLina products are affordable, luxury and made from eco-friendly fabrics. This combination changes the quality of life!
Post Op
Post Op solves the problem of poor communication between patients and clinical teams. Their AI-powered platform is designed to support patients, hospitals, and community clinical teams during post-operative recuperation. With this innovative solution, it is possible to predict the occurrence of wound infections before they become serious.
HealthMXSolutions
By offering smart patches integrated into the Health operating model, HealthMXSolutions is leading the health transparency revolution. They deliver consumer expectations to the medical experience.
Congratulations to all founders and business representatives on pitching and introducing great innovative ideas!
All businesses can be found on the Angels@Essex investment platform.
For more information visit Angels@Essex dedicated webpage or visit in person here in the Innovation centre.