Garry Moore is a local Entrepreneur with a passion for design and engineering. His business Checkmate Innovation has a virtual license with us here at the ICKG and his Velocity air flush water saving toilet is now becoming more than a reality.
We caught up with him to talk about his journey so far and what is next.
It is great to have you as part of our centre tell us a bit more about yourself and the business
I am an apprentice trained engineer and industrial model maker, with full machine workshop and rapid prototyping capability. I have filed patents for 18 inventions in the field of 'displaced air' WC flushing systems. I founded Propelair Limited in 2001 with the sole purpose of developing and marketing my 'displaced air' technology. This was funded by a series of grants and private equity investments. Following 5 years of intensive R&D and product approvals, I developed a high-volume manufacturing strategy and orchestrated the product launch in March 2013.
I patented the 'displaced-air' principle for toilet flushing (to save water) back in 1998 and founded Propelair Ltd in 2001 to develop the technology into a product for the commercial washroom market. I worked with Gary Rose and William McLaughlin on the design and production programme and Propelair was launched in 2013.
I left Propelair in 2018, having gained extensive experience in raising funding to develop my inventions and bring them to market, so I founded Checkmate Innovation Ltd in 2019 as a platform to provide consultancy and development services to other companies who wanted to develop their innovative products.
During the first COVID-19 lockdown everyone was working from home. I was home-schooling my two children while my wife worked remotely from the spare room. As this settled into a long-term routine, I realised that people and businesses all over the country were investing such significant resources into being able to work from home that I was witnessing a social shift whereby people would never go back to working from an office to the extent they had done before, and the housing market remained buoyant throughout 2020 to reflect this.
I knew that if people were spending less time in the office, water use in the home would increase, yet there was not an air-flush toilet suitable for saving water in the home. With my 'displaced-air' patent expiring in 2019, I realised that it was the perfect opportunity to explore whether an air-flush toilet was feasible for the domestic home market. By using a combination of video conferencing and virtual focus groups, we were able to prepare a project brief and set about developing their ideas into a product, which we named Velocity®.
While the Propelair design had worked well and saved a lot of water the equipment was larger than that of a conventional toilet with the cistern mounted away from the pan behind removable panelling. It just wasn't not suitable as a replacement for the close-coupled toilets in houses, and users also had to touch the lid during use, so these were the key areas the team wanted to explore. 
There was quite a lot written during lockdown about how remote working negatively impacted companies' ability to innovate, with design teams unable to 'bounce' ideas off of each other to achieve evolutionary changes. But the Velocity team found the lockdown to be a very positive and productive experience with our small multi-disciplinary team able to come up with some very revolutionary ideas (and generate new IPR) by having technical empathy with each other (and with the design process) and having the autonomy to work alone without a formal reporting structure.
This enabled us to develop novel solutions to both designing an air pump compact enough to fit inside a conventional close-coupled cistern size (while also reducing the flush volume to 1.4 litres of water) and a system of opening and closing the lid and locking it in the closed position (to allow air flushing to work) from an infrared sensor so the user doesn't have to touch anything.
We also looked at simplifying the manufacturing process to address limitations and complications with the ceramic production process, and our combined in-house R&D capability meant that during lockdown we were able to produce concept models and working prototypes to try out our ideas and get feedback from users by holding a focus group at a bathroom showroom as soon as the first lockdown was lifted. The feedback was excellent and encouraged us to develop a hand basin to complement the WC, as part of an expanding product range.
You are working with Exeter University at the moment, can you share what that project is?
The University of Exeter is working in partnership with Southwest Water to tackle the sustainable management of water resources to address climate change and population growth. They have identified Velocity as an innovation that can be easily deployed in houses to enable new water reduction targets to be met, and they are going to install Velocity toilets on campus to demonstrate, disseminate and commercialise the product as the development programme progresses.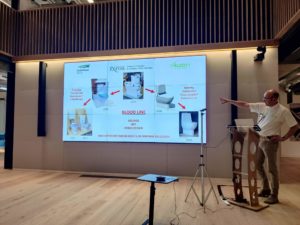 You have recently won an industry award, can you share with us what that is?
The Institute of Water is the professional body of the UK water sector that aims to support and promote innovation in the sector through an annual national innovation competition and award ceremony. Velocity won the Southwest Area final for our development work with South West the University of Exeter and we have now progressed to the national final.
Can you tell us what are you working on at the moment? 
We are developing Velocity, which is the next generation of ultra-low flush air-operated toilets for the home. The design features a touch-free automatically closing & sealing lid, which allows low-pressure air to give a powerful, quiet flush, requiring only 1.4 litres of water (for cleaning and water trap retention) allowing it to comply with existing UK building regulations. The 'close-coupled' design means it is appropriate for residential markets (representing 75% of the overall WC market). It will reduce average household water use by 25% and give payback in 3 – 5 years while allowing property developers to achieve water neutrality without needing to recycle wastewater. It is self-cleaning and reduces the amount of bleach that is flushed into the ecosystem.
What do you think makes you stand out in this industry? 
Flushing toilets have not fundamentally changed since they were invented in 1596. They still require sufficient water to flush the waste away. My displaced air invention broke the reliance on using water for flushing toilets and is the first step-change innovation the sanitary ware industry has seen in the last 100 years, which has opened the way for the sustainable development of housing from a water perspective.
What made you decide to join the ICKG? 
When I founded Propelair in 2001 I was living in London and based my company at the University of East London's Innovation Centre, Knowledge Dock to raise its profile and get access support. It was a very positive experience having university resources and business expertise to hand as the business grew. As I am now Essex-based, I wanted to base Velocity at ICKG to give it similar support locally, which it has.
What would you say to a growing business that is considering moving to the ICKG? 
Networking is everything in business, and being part of ICKG and the wider Oxford Innovation network is a very cost-effective way of accessing world-class support and opportunities, and raising the profile of your business.
So, what's next for you and the business?
We are now developing a small number of refined prototype toilets for assessment at a trial we have arranged at Canary Wharf, and together with our partners at the University of Exeter and South West Water, we are reaching out to commercial partners and funders to allow us to conduct wider scale trials and to take the technology to market and into production.
You can check out Garry's Website here Velocity 1.4 litre flush WC. Air-flush technology for the home. (velocity-wc.com)
We are proud to have Garry as part of our exciting community. Please contact us if you are interested in being a member here, where we can set up a tour of the centre and its facilities. Please contact us at info@innovationcentre-kg.co.uk  or 01206 405 500 for Coworking, Hotdesking and Private Office space to rent.