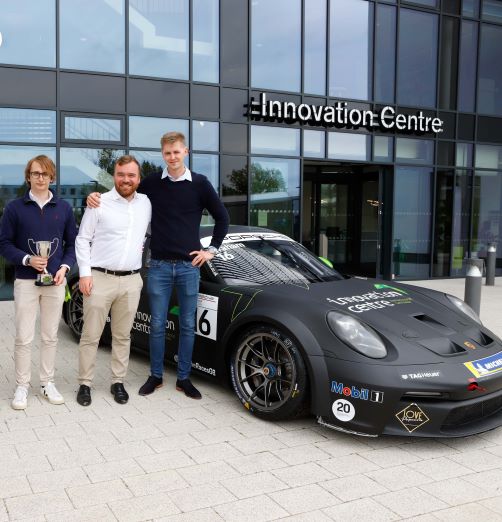 Racing fans are seeing the familiar colours of the Innovation Centre, Knowledge Gateway flash by as they watch this season's Porsche Carrera Cup GB.
The logo of the Innovation Centre was featured on the Porsche 911 GT3 being driven by top driver Matty Graham as he competed for Redline Racing in the first races of the season at Donnington Park.
And the partnership enjoyed immediate success with Matty taking first and third places in the two races held during the opening weekend of the championship.
After the Donnington Park success, the Innovation Centre was delighted to welcome Matty, Redline Team Principal Simon Leonard and the Redline cars to its home at the Knowledge Gateway research and technology park at the University of Essex's Colchester Campus.
The link-up between the Innovation Centre and Redline Racing is thanks to Joshua Ward, CEO of Innovation Centre based company Terminus Technologies.
Joshua said: "The Innovation Centre is an unique space which offers so much to all its customers, whether it's working with other businesses there or utilising state of the art facilities. It made total sense for Redline Racing, one of the most successful teams in UK motorsport, the Innovation Centre and Terminus Technologies to come together to showcase cross-country collaboration to benefit our work in motorsport.
Terminus Technologies is a business that works on vehicle positioning solutions in motorsport and public safety. At the moment, Terminus is focussing on using camera and software systems to monitor track limits breaches and gather race vehicle data for use by teams.
Porsche Carrera Cup GB continues to be an unmissable feature of every motorsport enthusiast's calendar. It is the fastest single marque GT racing championship in the UK and is celebrating its 20th anniversary this season.
Innovation Centre, Knowledge Gateway is a partnership between the University of Essex and Oxford Innovation, the UK's leading Innovation Centre operator. Their joint aim is to make high-tech and creative start-up and scale-up businesses into sustainable and commercial successes, which has a continuously positive impact on the local economy.
Centre manager Georgina Watts said
"Here at the Innovation Centre we are passionate about supporting start-up businesses and helping them get to the next stage. We have and continue to create a thriving community of like-minded businesses and are really excited that we can showcase the product of Terminus Technologies and the partnership between two innovative companies uniting through motorsport"