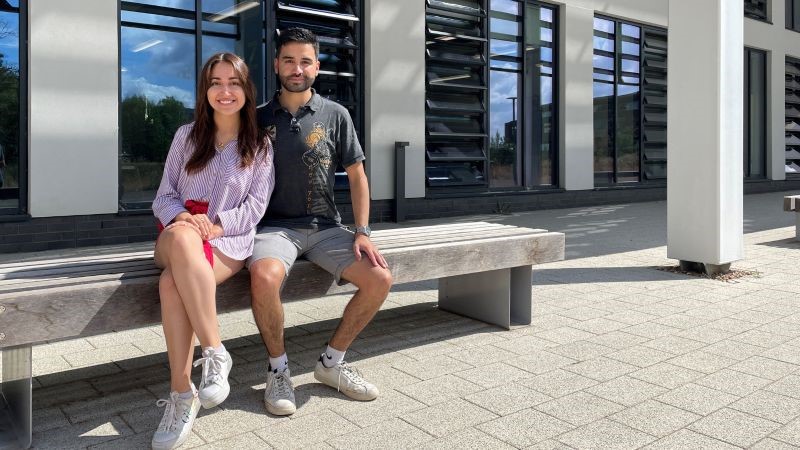 Class of 2020 MA Applied Linguistics graduate Cami and her husband Seba are preparing to launch their own EdTech start-up business, offering a broader range of English language skills and a personalised service for learners.
How it started…
Cami: I worked for six years as an English school teacher in my home country, Chile. During that time, it occurred to me that I didn't share as much knowledge as I would like to with my students. I knew that the expression of how to teach is as important as the knowledge itself, so I started to think about tools for a better and more effective language learning.
I decided to complete my postgraduate study abroad to fulfil my dream of travelling the world and making international friends. The idea of doing masters in the UK felt like the right choice, with my background in teaching English.
I chose Essex because of its multicultural environment with many activities and support for mature students (as I have realised that I am one!). The Colchester campus looked lovely, and the University had a very encouraging online presence. I researched the professors and wanted to meet academics from the Language and Linguistics Department. Another important aspect for me was the offer of academic English classes for partners, so my husband could study as well.
During the pandemic, we were starting to look for jobs. The situation on the job market was very tough, especially for visa holders, so we didn't know what to do at all.
Seba: Our friend gave us an Essex Startups flyer, which looked perfect for us. We decided to book a 1:1 session with Magdalena. We had many ideas, and although our business plan was blurry at the beginning, the 1:1s helped us clarify the service we wanted to offer.
Cami: That year (2020), we participated in Summer Bootcamp online. It helped us prepare a business plan.
Seba: Following the bootcamp, we took part in the evolve programme, which we found very useful because we could network with other founders. Thanks to this event, we felt like a part of a community.
Cami: These experiences helped me gain experience pitching in front of investors, which is something I never thought I could do. I surprised myself, each Essex Startups pitching competition gave me more confidence. We took all funding opportunities available and received funding from Dragons Den (£500), evolve Programme (£3,000), and Knowledge Gateway funding (£15,000).
Seba: We took part in as many Essex Startups events as we could, as we found them interesting and useful. We did many 1:1s, and workshops – finance, marketing, and app development. We also took part in the Weekender.
How it's going…
Cami: We started our business when I finished my masters. We have a start-up visa, allowing us to remain in the UK working full-time on our business.
Seba: Cami focuses more on the product, and I work more on the logistics and business administration. As we are married, it has been easier for us – we each bring different skills to the business, so haven't needed to look for co-founders. We complement each other.
Cami: We have a licence agreement to work in Studio X, close to the Startups team and other entrepreneurs.
Seba: We enjoy coming to Studio X and using all the facilities – the Lab for meetings and the kitchen during lunch. It's nice to have a place anywhere other than home to focus on work, meet with like-minded people and make connections in the Innovation Centre with other companies.
The next steps…
Cami: We are launching our company in October this year (2022) with a metaverse version. We have built our own English learning platform for students from primary school age to adults. We are focused on helping people from low and middle-income families to become global citizens. We want to give them skills and opportunities to improve their quality of life.
Our main objective is to mix linguistics with soft skills, so people will not only learn English but also gain an understanding of how to use English in everyday situations. We are connecting our students to native speakers, so they have a chance to speak English in a real-world context. We also offer English classes that incorporate important 21st-century topics like sustainability, emotional intelligence, multicultural awareness, digital literacy, and smart goals.
Another innovative part of our business is personalised student profiles. Students will have sharable notebooks that are automatically analysed to highlight weaknesses to work on. By doing this, we can give personalised activities to each student. It is not like a traditional school experience, where students on different levels learn from a power point presentation and get the same homework.
We have noticed that this learning method has a positive impact on students – they are more motivated, and learning English becomes more meaningful.
Seba: We are currently focusing on students from Chile but plan to expand into Europe and then worldwide further down the line.
Cami: The aim for our business is to help improve the quality of lives of others. We hope to be the language service people associate with offering broader English language skills, as well as tailored support to help learners achieve their goals.
Words of wisdom…
Cami: Don't be afraid if you don't have a business background because you never know what you are capable of. Even if you know nothing at the start of the process, the support from the Essex Startups team will guide you through.
Starting your own business can be like a rollercoaster, but everything starts to become possible when you have a support system around you. Essex Startups do not only help you grow your business but also you as a person.
Seba: Essex Startups has not only given us business support but also emotional support. We have felt a real connection with the team, which has been valuable for us being from overseas without family in the UK. We initially felt lonely when we arrived here, but the Essex Startups team have become our friends.
Find out more
If you have a potential start-up business idea, or are interested in developing your business skills, find out more about the training, events and support Essex Startups offers to current students and recent graduates.
Join us next week for our new Make Me An Entrepreneur series. We are hosting three six-week programmes, each focusing on enhancing the opportunities for underrepresented groups within our entrepreneurial community
Find out more about our office space solutions, or contact us at info@innovationcentre-kg.co.uk  or 01206 405 500.