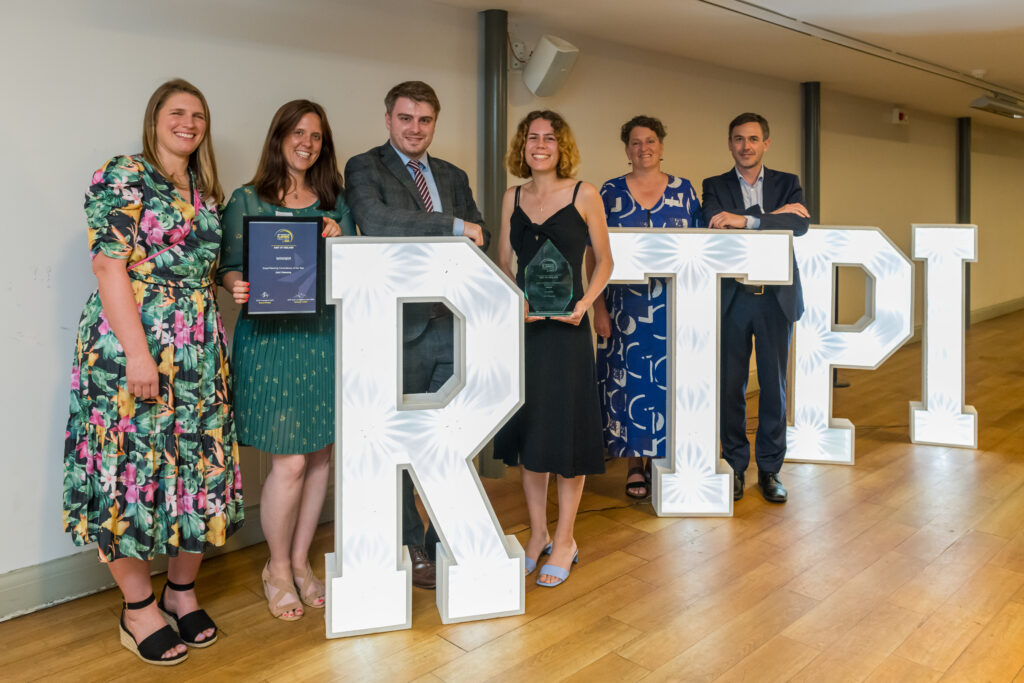 We love to celebrate the successes of our ICKG members, so we were delighted when DAC Planning won the 
RTPI Small Planning Consultancy of the Year award at the RTPI East of England Awards! It's a well-deserved award for such a caring and hardworking team, who have dedicated their skills to public sector work. We interviewed Founder & CEO David Coleman to find out more about DAC Planning, what the award means for them, and what is next on the horizon for the growing business. 
Welcome David! Can you start by telling us a bit about DAC Planning?
DAC Planning is a town planning consultancy which specialises in providing support to local authorities and local communities. We are involved in a diverse range of projects but predominantly assist in the production, examination, and adoption of local and neighbourhood plans. By providing support and training to local authorities, we help them to overcome the skills gap in planning whilst ensuring that plans are centred around community benefits.
Huge congratulations for the award! We want to know all about it: what was the award, why did you win, and what does this mean to you and your team?
We are absolutely delighted that DAC Planning has won the RTPI Small Planning Consultancy of the Year award at the RTPI East of England Awards. The judges commended our focus on enhancing outcomes for local communities as well as our commitment to diversity and inclusivity.
They also commented, "Their consistent performance and fantastic reputation within the consultancy market, particularly in their support of local authorities, were also impressive. It's great to see a company that highly values communication, flexibility, and innovation. Congratulations to the team at DAC Planning for this well-deserved recognition!"
This is a fantastic achievement for the team, and it provides well-deserved recognition for the hard work, dedication and expertise that each team member consistently brings to our projects. The award also enhances our professional credibility and reputation within the industry, demonstrating to clients that we excel in the field. This is important as we continue to expand and look to become the leading town planning consultancy nationally.
It's great to hear that you're expanding, can you tell us a bit about where the company started?


I started DAC Planning in 2016 having already worked extensively in both the private and public sectors for both large and small organisations. I felt that there was an opportunity and space in the market to develop a planning consultancy that specialises in working for the public sector, and that I had the skills and experience to do it. The vast majority of consultancies focus on working for private sector clients or developers, which is generally a more lucrative market. However, I decided that I wanted to establish a company that would focus on undertaking the work that I am passionate about for the benefit of local communities.
Since 2016 the team has grown significantly, and we have established our reputation nationally as a specialist provider of consultancy services. In the future, we would like to continue to expand our team whilst also diversifying the range of services we offer.
Our vision is to establish DAC Planning as the leading planning consultancy nationally, which supports the public sector and volunteers through a plan-led approach to deliver the best possible outcomes for their communities.
It sounds like you have a great team – can you give us the who's who of DAC Planning?
The team consists of four chartered planners and a graduate planner. We are also supported by a part-time Office Manager and a great network of advisors and associates who share our vision. I am very lucky to have such a great team and have taken great care to assemble a team which shares the ethos and values of the company. One of the things I enjoy most is the close-knit and collaborative environment. As a small business, we have the advantage of being able to easily communicate and share ideas, which fosters a strong sense of camaraderie and allows our more junior members of staff to contribute to the development of the company.
Charlotte and Toby work with me in our office on the second floor of the Innovation Centre, having joined the company through the challenging times of the pandemic and working from home. Charlotte (Planner) is originally from Canada but moved to Colchester to take up a role with us after completing her studies in Newcastle and is now a chartered town planner. Toby (Graduate Planner) is originally from Northern Ireland and moved to Colchester having completed his studies last year. I am pleased to say that in September we will be joined in the office by Vicki (Associate).
Tim (Associate Director) and Nicki (Associate) predominantly work remotely from Buckinghamshire and West Sussex respectively.
As a team, we work closely to support various planning projects nationally. We all take pride in the high quality of work that we produce, and the positive feedback that we receive from our clients. We deliberately promote a healthy work-life balance and encourage our employees to prioritise their physical and mental health.
You've grown the company from scratch to a successful business with great growth potential, what advice do you have for any other entrepreneurs who are starting out?


I would recommend that they seek advice from a range of specialists and trusted professionals. Always learn from your mistakes and never feel disheartened if things don't go to plan the first time.
How long have you been based in ICKG and how have we helped your business?
We have been based in ICKG for nearly two years. It has been incredibly advantageous for our team in providing a base that is accessible for all members of staff, some of whom predominantly work remotely. In the winter, sightings of the resident owl are a major bonus!
Aside from the stimulating environment, we enjoy being able to connect and collaborate with other companies. We are also very grateful for the expertise we have access to, including the business development advice. This has contributed to our growth and success in delivering high quality planning solutions to our clients.
What's next on the Horizons for DAC Planning?
We are expanding and looking forward to another chartered planner starting with us this September. We are currently working on diversifying our offer, including the expansion of our neighbourhood planning support and the development of a portfolio of training materials and courses for local authority planners and councillors. We are always looking ahead and lining up projects for the future.
Visit the DAC Planning website to find out more
—
Find out more about our office space solutions, or contact us at info@innovationcentre-kg.co.uk or 01206 405 50.