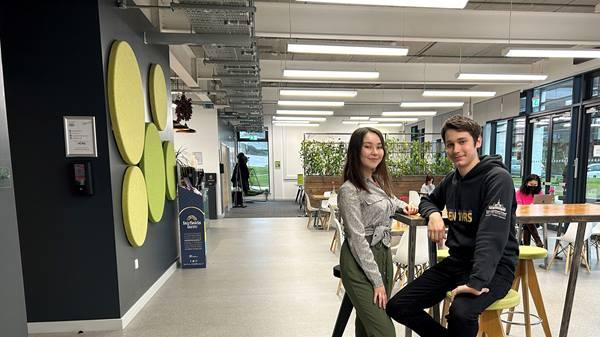 Here at the ICKG we are keen to celebrate young entrepreneurs that are part of Essex Startups. The Essex Startup Team are based here in the building and part of the University of Essex that help guide current student/graduates/entrepreneurs with their business ideas.
With their cutting-edge VR game After Time Combat, recent graduates of The University of Essex Madina Kadyrova and Alexey Kurnosov unite the worlds of sports and gaming.
How it started…
Alexey: I grew up in Germany and completed my high school education in Vietnam. I decided to study at Essex to remain in an international environment. I thought it would also be beneficial to continue my education at an English-speaking institution. I noticed that Essex has a high student satisfaction rate, substantiated by many positive reviews.
I studied for a BA in Sociology and Counselling, graduating in July 2022. I was glad that Essex offered a mix of sociology and counselling skills. I have always found people and society interesting. I consider these to be the world's most complicated elements, and my degree helped me understand them.
Madina: I am from Kazakhstan and graduated high school with a golden medal (equivalent to 4.0 GPA) when I was sixteen. As it was quite early, Essex was one of the few UK universities that could accept me at this age. I have always been passionate about mathematics and found it a flexible subject that would allow me to consider a wide range of career paths, including computer science and even entrepreneurship. I graduated with a BSc in Mathematics in July 2020.
Meeting the Essex Startups team…
Alexey: Before coming to the university, I was a professional magician – I hosted magic shows in local bars and wanted to bring this hobby to the UK. I met the Essex Startups team during Welcome Week and shared my side-hustle idea of being a magic performer. However, after conducting market research, I realised the UK market is saturated with magicians. Therefore, I pursued my other hobby and started developing my game at the start of my second year.
I had limited knowledge of game development, but I was keen to learn about artificial intelligence and explore other technological concepts. I bought my first VR headset and tried out games available on the market. I noticed that most VR games are very limited regarding the space you use. Players walk in one place and usually don't use the entire room. I decided to address this gap.
Madina: After graduation, I considered pursuing an entrepreneurial career path. I had already started to develop my entrepreneurial skills as a teenager, designing women's accessories and selling them via Instagram. This experience brought me joy, so I wanted to try it again. I found the information about the start-up visa online and decided to contact the Essex Startups team for endorsement. I attended 1:1 mentoring sessions with the team and participated in weekly workshops.
Alexey: We met each other during the Start-Up Weekender. Madina was interested in me, the game, and the concept of virtual reality. And not long after we became romantic partners. After graduation, I moved back to Germany but couldn't find an interesting job. Madina convinced me to return to the UK and work on the game together.
How it's going…
Alexey: We are co-founders of After Time Combat (ATC), a competitive multiplayer VR shooting sport. The game is designed for young adults, but everyone interested in combining virtual reality and team sports can play it. We want to encourage the young generation to spend time actively together. Instead of playing computer games all day at home, you can play a challenging game with your friends. As the younger generation is driven by modern technology, we introduce a VR game that requires physical activity.
Madina: Currently, we are hosting events on the University of Essex campus to gain publicity in the area. We also work closely with different departments of the University. We have welcomed more than 80 people throughout multiple all-day events, some of which took place in the Sports Centre and at the Innovation Centre.
People come out of the experience happy, filled with adrenaline but also physically tired. Every event hosted was an absolute joy, and it is great to see their excitement, both from players who are new to VR and those familiar with the industry. We use customers' feedback to improve our game and ensure it has adequate quality. We work with game developers in the Netherlands who help us add new game features.
Alexey: We have received a lot of advice from the Essex Startups Team about pitching, competitor analysis, and business planning. We learnt how to create a marketing strategy and write a business plan during the Essex Startups events. I don't have a business background, so I am grateful for the team's support. We have been able to use the Lab in Studio X to test our game.
Madina: The Innovation Centre has also provided us with the rooms and the space in Mission Café for the game showcase. To host our tournaments, we now rent a computer lab on campus from Events Essex. The support from the University and Innovation Centre helped us grow our network and show our game to potential customers. We have also won funding from the Essex Startups Team, by participating in two Dragon's Den events, receiving £750 overall.
Alexey: I am excited to participate in the evolve Accelerator Programme this year, which will help us massively in continuing to develop our business. It is a great opportunity to work with other start-ups so we can learn from each other.
What's next…
Alexey: The goal for our business is a worldwide franchise. I have a lot of friends from South and East Asia who are interested in our game. The cost of renting is cheaper there, so it would be easier to host tournaments. Expanding to other European countries is also in consideration, especially because we don't have many competitors. Our most important aim is that we want to build an active sport community around competitive gaming, innovative technology, and physical fitness. It can positively combat the lack of physical activity in mainstream play.
Madina: We would like to have our own venue where we can offer our game daily without worrying about room bookings. We are looking for space in Colchester, so the game will be available for the Essex students. By then, After time combat will hopefully become a go-to entertainment here and include a wider selection of visual themes, game modes, and challenges.
Words of wisdom…
Madina: I have learnt that your business is your most important project. And to me, what matters the most when you take an entrepreneurial path is building a strong team with the right people who share the same vision and can inspire you.
Alexey: Manage your money wisely when starting a business. Ensure you know how to use your funding, as it plays a significant role in your start-up journey. It can decide on your start-up's growth and success.
Find out more
Find out more about the training, events, and support that Essex Startups provides to current students and recent graduates whether you have a business concept or if you're interested in honing your business abilities.
Find out more about our office space solutions, or contact us at info@innovationcentre-kg.co.uk  or 01206 405 500.