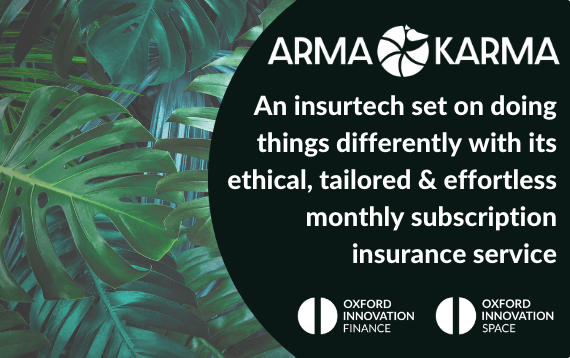 Arma Karma, the award-winning monthly insurance subscription company, has been a part of the Oxford Innovation ecosystem since 2019, when it took up residency with Oxford Innovation Space in the Colchester Innovation Centre Knowledge Gateway.
Arma Karma is a monthly subscription service that insures up to five objects against loss, theft, and damage, no matter where you are, and is the first insurance solution created exclusively for the millions of young renters who choose not to purchase contents insurance.
With specialist mentoring and coaching support provided by expert Innovation Directors at the Innovation Centre Knowledge Gateway in Colchester, Arma Karma quickly advanced through its first investment round in 2019 and was welcomed by the industry when its insurtech platform was launched in December 2021.
As a brand and business, Arma Karma has experienced significant growth and gained real traction within the insurance industry, winning some prestigious awards such as Young Achiever of The Year at the 2022 British Insurance Awards. To continue this growth trajectory into 2023, Arma Karma needed access to the next level of investment and business support.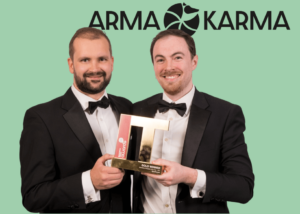 Following an introduction from the Innovation Director at Colchester's Innovation Centre Knowledge Gateway, Arma Karma pitched its unique solution to an audience of expert angel investors at the Oxford Innovation Finance OION Showcase event, in September 2022. Instantly struck by the innovative and efficient nature of the solution, OION Angels invested in the latest £1.5 million funding round, facilitating further technology development to support the fast-growing numbers of subscribers to Arma Karma.
The collaboration and support of the Oxford Innovation ecosystem encourages the development of innovative solutions to the challenges of our future. Oxford Innovation is committed to assisting the next generation of UK companies by providing value that goes beyond money to companies as they embark on their growth journey.
Ben Smyth, CEO and Founder of Arma Karma said: "Oxford Innovation Finance Angels are the very definition of smart-money, and we couldn't be happier to have them join our journey.
Our seed funding round is set to propel us in 2023, doubling down on the developments and success we saw across 2022."
Richard Cooper, Managing Director at Oxford Innovation Finance, commented: "Arma Karma is an exciting business with a proven concept that is already gaining traction in its core markets. Following the introduction from Oxford Innovation Space, we met the experienced founding team at our Showcase event and was impressed with their proposition and significant growth potential. With younger generations relying more heavily on technology and gadgets to assist them through the different stages of their lives, we see the insurance and protection of them as a big market opportunity."
Neil Griffin, Innovation Director at Oxford Innovation Space, added: "I've supported the strategy and growth journey of Arma Karma since their arrival at the Innovation Centre Knowledge Gateway in Colchester over three years ago. Instantly struck by their professionalism and positive work ethic I knew they had the potential to break down the barriers to entry and deliver an innovative solution to their core markets. Our strong relationship with Oxford Innovation Finance has allowed this team of entrepreneurs to thrive and continue their development plans, which I am proud to support them on."
Oxford Innovation Finance is the home of OION, one of the oldest and largest Angel Investment Networks in the UK, and the Oxford Innovation EIS Growth Fund. Providing investors with the opportunity to invest in pre-screened opportunities either directly through its Angel Network or indirectly via its EIS Fund, and companies with the opportunity to secure investment from a large, diverse investor base.
Oxford Innovation Finance provides all-important access to finance for innovative early-stage companies which are crucial to the future prosperity of the UK and its economy. Uncovering the next generation of science and technology opportunities, it provides a gateway to the innovation ecosystem of Oxford and beyond, supporting the companies of the future.
www.oxfordinnovationfinance.co.uk
We are very proud to have Arma Karma as part of our exciting community. If you would like to be part of The Innovation centre  please reach and via our contact details below, we would love to show you around. 
Find out more about our office space solutions, or contact us at info@innovationcentre-kg.co.uk  or 01206 405 500.