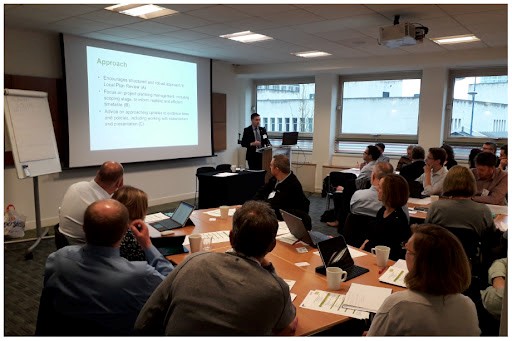 DAC Planning (based here in the Innovation centre) has announced that the Local Government Association's Planning Advisory Service (PAS) has re-enlisted its help to provide support for English local authorities by reviewing how they project manage local plan preparation.
These reviews aim to assess the suitability and effectiveness of the present project management approach of the council concerned, including looking at the plan's programme and timetable as well as the resources needed for it.
The firm says it aims to provide recommendations and support to manage and mitigate risks, assist local authorities in staying up to date with national policy and legal changes, and identify any additional support needed. 
The DAC Planning project team had previously worked with PAS in 2019 to design and produce the Local Plan Route Mapper and Toolkit, which aims to help councils review and update their local plan policies. In 2021, it produced an updated version to reflect changes made to national planning policy.  
Since January 2021, DAC Planning has continued its work with PAS, delivering local plan support to councils across the country, including the provision of around 50 local plan gateway reviews to 60 local authorities. 
"We are delighted to be continuing to work with PAS to support local plan production nationally," .said  DAC Planning director David Coleman.
"PAS support provides much needed guidance and assistance to local authorities as they seek to get a 'sound' and 'legally compliant' local plan in place as soon as possible.  
"We are passionate about supporting local authorities as they navigate the complex world of plan-making and PAS support helps local authorities to avoid pitfalls and take on best practice."
We are very proud to have David and the DAC team as part of our exciting community. If you would like to be part of The Innovation centre  please reach and via our contact details below, we would love to show you around. 
Please contact us at info@innovationcentre-kg.co.uk  or 01206 405 500