In 2017 Josh Ward set up his company FOGLDN (pronounced Fog – London). Having previously worked as an operational specialist at Apple, his new mission to empower businesses of all sizes with the bespoke solutions they need to own their industry.
Josh brought FOGLDN to the Innovation Centre earlier this year and recently we spent some time with him to see what he has been up to.
Josh, tell us a bit about you and your background.
Where to start? I wasn't that focused at school when it came to the 'traditional' subjects, for me I was into entrepreneurism, and always had a passion for computers and managed to get a job with Apple where I had 4 great years.
But in all honesty, I am just a local lad from Essex who loves Technology, Cars and Trainers. In fact my first real business was serving the limited edition and luxury goods market by providing a unique solution centred around computer networking and proxy solutions. That was the first iteration of FOGLDN. But as other people and businesses will appreciate, COVID hit, and I re-pivoted the business and what I was doing.
This has resulted it a shift of focus with FOGLDN into bespoke software solutions and development but also setting up some other interesting businesses that sit under our umbrella.
You have 3 companies here what do they all do?
FOGLDN is the Software Development and Consultancy house that does software engineering across a broad spectrum of sectors.
Terminus Technologies is a business that looks at vehicle positioning solutions. The focus for the business at the moment is utilising LIDAR camera and software systems specifically designed to monitor track limits breaches and disputes on motorsport racetracks including Formula 1.
FOGDOG is in essence a web design agency, but it's more than that, my vision is marrying cutting-edge technology with creative vision to deliver unique online experiences that are affordable for all, not just the Companies that can afford agencies.
All the companies are separate but help each out when needed, I wouldn't have it any other way.
They all sound great but Terminus Technology with the F1 technology obviously stands out, can you tell us more about that?
It does normally get most of the attention, especially when you mention F1 in a conversation. I could bore you to death with the technical aspects, but I won't, well not yet anyway 😉. The basic premise of the system we are working on is to produce an effective track limits monitoring system which ensures that the car remains within bounds, providing accurate and consistent rules enforcement.
This is in relation to the term 'Track Limits' which people might have heard of especially if they are F1 fans. We are using in-house developed, cutting-edge technology and data analysis that provide a real time track limits monitoring solution. On a racing circuit, track limits represent the boundary between an area of track that is acceptable to drive on (in-bounds) and runoff area that is not acceptable to drive on (out-of-bounds).
We are attracting some good attention from some of the big players in the industry and have a great partnership with Silverstone. Other things I can't quite tell you about yet, sorry.
Why have you decided to base your business in Colchester?
I want to keep things as local as I can, I am proud to be British and want to bring local talent along with me for the ride. With the Innovation Centre here and close proximity to The University of Essex I see no reason why building a successful and talented business that truly flourishes can't happen here.
We like collaborating and are already swapping skills and working with 3 other businesses here in the centre and I see those symbiotic relationships as a massive benefit to drive us all forward.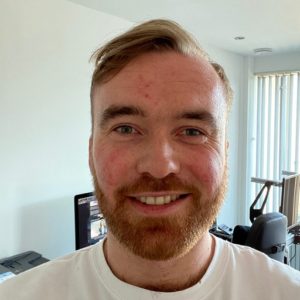 What is on the horizon for you?
The track limits project with Terminus is a priority at the moment, we are making such good headway with the technology and it's so exciting. But the applications for this technology reach far beyond motor racing, with the computer software and camera technology we use, we are looking at branching into the Gaming arena. Terminus Technologies' can power video games, track days, and professional simulator enhancing the accuracy and detail of games. With E sports on the rise we are also looking at how we might capitalise on this.
Lastly, we have started conversations with Government institutions with a view to look at improving safety and efficiency for transport and customs. Our technology can process different types of data which will make our journeys so much safer.
Similarly, customs agencies can use our technology and software to estimate vehicle weight and other unique identifiers, expediting border processes and easing traffic. Terminus Technologies' software solutions can facilitate the next generation of public safety agencies.
If, like Josh and FOGLDN you want to be a environment that is more than just office space and be part of the Innovation Centre business ecosystem please contact us at info@innovationcentre-kg.co.uk  or 01206 405 500