By the time you enter the Innovation centre as a customer/tenant you have already taken advantage of our flexible office terms, COVID safe spacious environment, fast broadband, location and car park. But what is next? What support do we give you to help your business succeed and scale-up?
On the initial walk around we talk about your company and aspirations for growth but once you are in situ, we take it to the next level.
Our process
Firstly, you can sit down for a business diagnostic session with Neil Griffin our Innovation Director. He will then go through your business in more detail to see where we can help you to have the most impact. This independent outside view of your business can provide valuable insight and direction.
Bespoke path tailored to your needs
Having looked at what your business might need we can help develop a structured plan and touch base with you as little or as often as you require. It is your business, we are here to be a sounding board, critical friend and can even hold you to account if that is what you want. The approach we take is one of 'we are all in this together' and we will take a lead from you on where you want to take your business.
We start by taking you through a Business Model Canvas (BMC), this is a strategic business template for developing new or flushing out your existing business models. It is a visual chart with elements describing a firm's or product's value proposition, infrastructure, customers, and finances. It allows us to see where you are as a business and where you want to go.
We can then tailor our business support depending on your goals.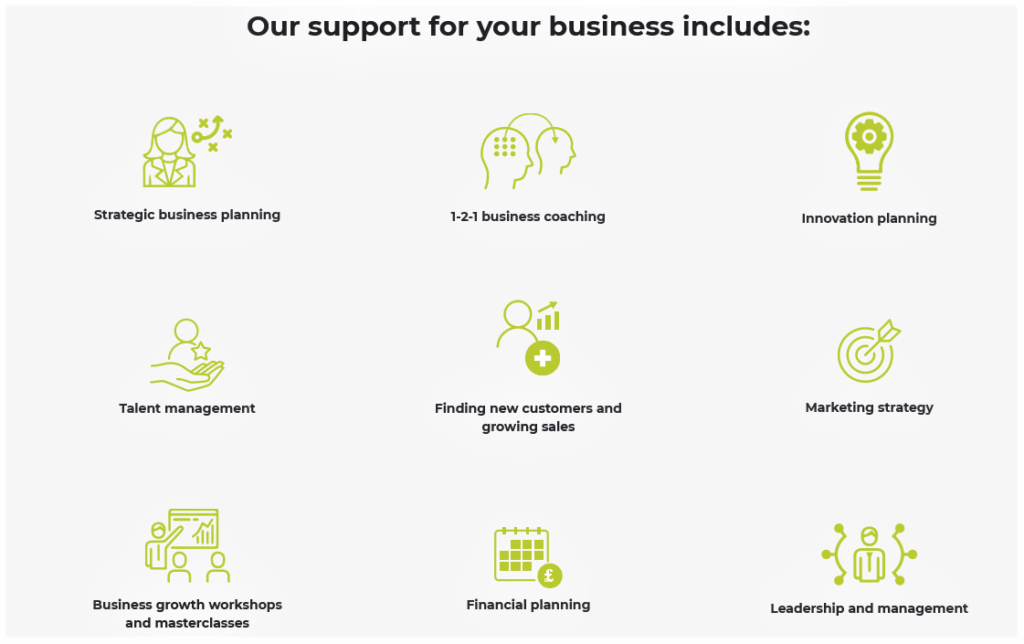 The support we provide is comprehensive and extensive. Neil has experience in multiple areas that include: strategy, commercialising ideas, sales &marketing, brand, leadership. All of this is with Scale-up, SME's, as a Non-executive Director and his own business.
"Neil was proactive in providing a number of business support services including a series of events, intros to local businesses, relevant peer networks, leadership support and 1:1 coaching sessions. Absolutely no reservations in recommending Neil to help bring new perspectives to your business" Dan Spicer CEO Ventura Digital
ICKG tools available to our customers
As a business we believe in adding value and included in all our office fees are access to some powerful business tools these include:
AWS, as we are a partner with Amazon under the activate scheme, we can get your business access to AWS credits and tech support. This can be up to $10,000 and used over a multitude of things including, secure cloud services platform, offering compute power, database storage, content delivery and other functionality to help businesses scale and grow quickly. Neil can endorse your business with an account set up and credits available within two weeks.
GROWTHmapper is the UK's leading business diagnostic tool, developed and wholly owned by us at Oxford Innovation. It can be done entirely online and does not require face-to-face meetings for completion or analysis. Up to eight members can complete it and it focuses on key business areas including strategy, cash, sales, leadership, operations, sustainability, and innovation. It basically gets to the route of challenges you have and what is working well to enhance steps forward. It is delivered via our Innovation Director Neil and get under the skin of your business.
"Neil has a modern approach to leadership and personal development, with a wealth of knowledge that he is passionate about passing on. Neil ran a GrowthMapper session with me, which helped unlock insights into my business" James Brand CEO Innovative Creations
OION is our Angel investment network and we can help you with pitching practice and help to push you into the right investment routes if that is the route you wanted to go. We also have access to the Angels@Essex platform with the University Enterprise Zone.
Referrals and introductions
The Innovation Centre is connected to a multitude of local experts who we liaise with on a weekly basis. This allows us to get answers to your business needs quickly and get you in front of the right person.
As we are located on the edge of the University of Essex campus, we have a direct route to the Knowledge exchange team, Employability team, Angels@essex, Essex Startups as well as individual departments such as Computer science. This helps with finance, interns, research, and visibility of your business.
Our networks are extensive and include big hitters such as Innovate UK, Technation, Tech East and local governing bodies. But we also value peer to peer networks so you will meet likeminded people here who you can collaborate with.
Your other financial needs are taking care of too. We can refer you to The BEST growth hub and Lets Do Business to see what grants and loans are available to you. And we are connected to EIRA through the University, so if your business fits their three criteria options will be available.
Events and Masterclasses
At the ICKG we love to put on both physical and virtual events for our customers and these include various disciplines that help with best practice and give you the inspiration to push forward.
But whatever we put on we always make sure these are delivered by experts and the best industry people we can find.
Outcomes
Businesses that work with us grow, five companies have entered our dedicated desk space and moved into offices in the last year. Plus others that have expanded, won grants, been selected for national accelerator programmes and launched successful products from here.
Leaders have grown by taking part in our leadership series, hired interns and local talent plus passed knowledge on to peers within the building.
This all in this together approach allows us to help scale-up your business quicker than any other location in the East of England. We are under no illusions the next few months will be tough for business in the local area. If you think we can help you in any way, please contact us and we can go through with you in more detail how we can help you.
If you can see yourself at Innovation Centre, Knowledge Gateway? Arrange a tour with Neil Griffin and the team by calling 01206 405500, email us at Reception.ICKG@oxin.co.uk or visit innovationcentre-kg.co.uk to find out more.