It's been a turbulent couple of months, but with Innovation Director Neil, Assistant Centre Manager Georgina, and many of our tenants back in the building, we're getting back to business. And no, it isn't "business as usual" – we've put comprehensive safety measures in place to ensure that everyone who comes to the ICKG is safe and supported. So, what's new at the Innovation Centre?
A Business Community for Innovators
It's more important than ever that office space is flexible and offers great value. To meet that need, we've refined our offering and doubled down on business support for our tenants. Whether you're looking to hot-desk or take an office for your business, we will work with you to make your time at the ICKG as productive and stimulating as possible. That's why we offer:
Flexible terms on office agreements
Spacious offices and work areas with COVID safety measures in place
All-inclusive tariffs with no hidden costs
It has been our ambition from the start to create a community of innovative, tech-focused businesses in the East of England. We are proud to say that even during lockdown, our tenants have been collaborating and supporting each other. They have accessed the wealth of knowledge that the University of Essex has to offer and taken advantage of routes for collaboration. In fact we are starting to publish more case studies so watch this space for updates.
Business Support and Coaching
Our business support programme has continued, both on and offline. Being part of the Innovation Centre Network provides our clients with key influence across the region. By engaging with our services, our tenants have been well-positioned to adapt to changing circumstances. We offer:
1-to-1 coaching
Business Model Canvas and Value Proposition
Strategic growth support
GROWTHmapper: a 360° data analysis of your business
Brand and marketing positioning
Access to AWS credits
Masterclasses
Pitching
These can all be accessed and delivered via our Innovation Director Neil, whose experience in business with Start-ups, Scale-ups, SMEs and as a Non-executive director is extensive.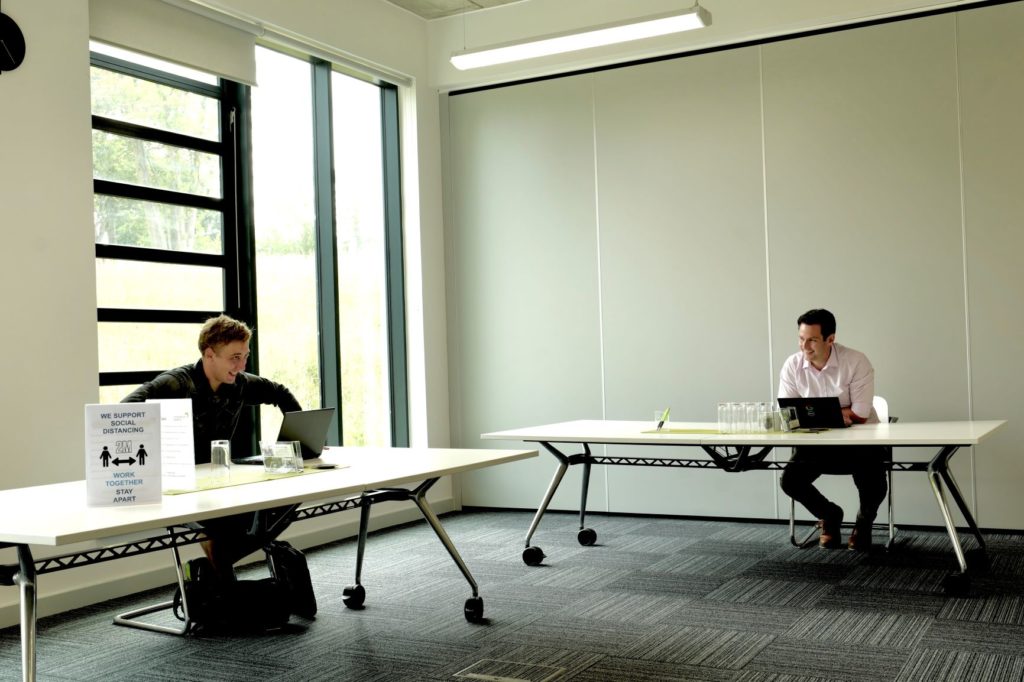 Café, Events and More
We are happy to report that our beloved Mission Café has reopened inside the ICKG. You can safely order your coffee, lunch and pastries via an app and pick them up onsite. They are also available for corporate catering. We're starting up our events again, including free regular networking, workshops, and masterclasses from industry leaders. So far, we have welcomed such companies as Google, Wolff Olins, Mindspan, and we look forward to welcoming more experts to speak to our community physically and virtually. And if you're looking to host, our rentable meeting space is available to all.
All in all, we are very excited to start this next stage of our journey. Many thanks to our existing tenants, partners, and Innovation Centre team for being so open-minded and resilient. If you want to find out more about what we can offer to your business, email our Innovation Director Neil Griffin at n.griffin@oxin.co.uk or visit https://www.innovationcentre-kg.co.uk/