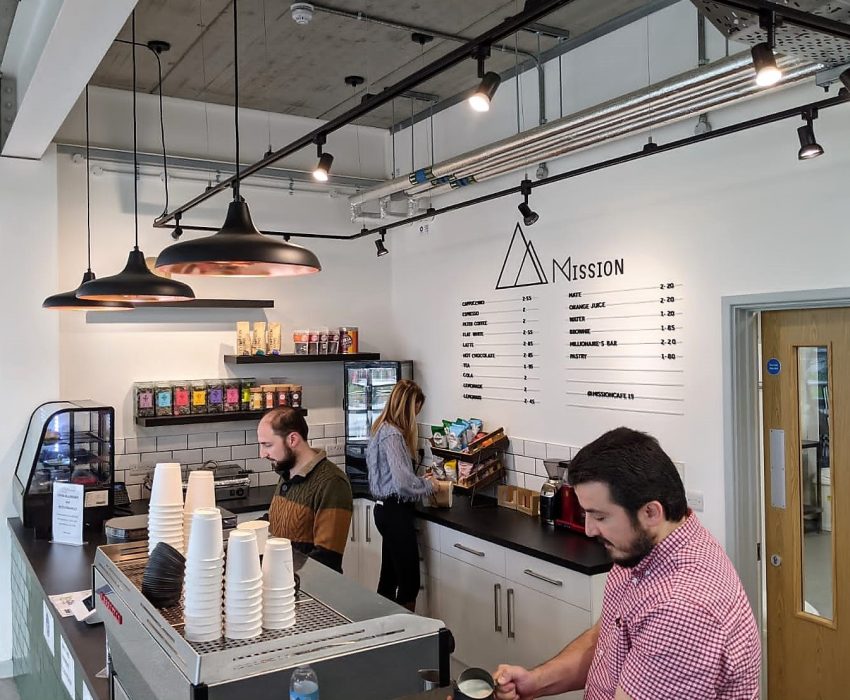 Mission café has been with us here at the Innovation Centre since we opened and is integral to our community feel. Like many in the hospitality sector, they have had challenges during 2020 but are innovating to overcome them and drive the business forward.
Can you share a little bit about your business and your team?
Mission Café is an innovative and modern café and we are on a Mission to serve quality, sustainable and diverse foods and coffee from around the world. At Mission we have three core pillars that we never compromise:  1- Quality (of food and service), 2- Sustainability (ethical approach, local suppliers, compostable cups and food boxes, cans and glass) and 3- Diversity (of food, coffee and staff). Since our launch in June 2019, we have employed 15 students from 7 different nationalities on a part-time basis.
Our customers are our most valuable assets and their satisfaction is our priority. Our customers call us "maestros of HAPPINESS" and they have described our café as "somewhere to relax yet also perfect for working". The Speaker of the House of Commons, John Bercow has also acknowledged the taste and quality of our duck wraps.
At Mission Café, we are very passionate about start-ups and entrepreneurship. Our ultimate goal is to create and foster a culture of membership whilst creating a sense of community bringing together. This includes like-minded students, academics and entrepreneurs into one place where innovative and creative ideas can be discussed and projects that serve the local community can be launched. We want to help in bridging the existing gap between these groups, as we strongly believe that each of these groups can be the movers and shakers of their communities when working and collaborating together in a social environment while enjoying our diverse range of coffee and food.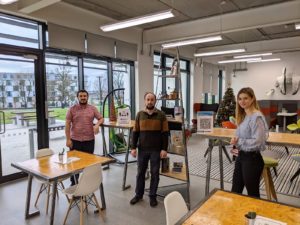 Co-founders Abdul and Omar with International relations student Pauline 
What has changed for Mission café this year?
Before Covid-19, we were preparing to get to the top of our game as a business and it is just devastating to have to turn off the engine. The Coronavirus has affected our business even before the lockdown. Uncertainty and fear for consumers were changing the way people used cafes but the businesses' expenses would not change. Like many other businesses and in accordance with the Government's announcement, we had to close.
We have been able to utilise the QGO food app, which is a company based here in the ICKG so it has been useful to work with them to fulfil orders for people in this way. This is the real essence of the building and collaborating in this way has allowed us to reach an audience we otherwise wouldn't have.
Tell us about the new website and offerings
To continue building our brand to minimise the impact of this pandemic and to not just sit around and wait, we decided that we need to respond to the current pandemic by building a website and a delivery system. We have to let people know we are open and are willing to do what we can to serve them. Having the delivery option makes everyone feel safer and people will still be getting the service they want.
We are embracing innovation and have also gone completely cashless as we feel that is the future, a slicker customer experience and safer for everyone concerned.
What do the next 6-12 months look like for Mission cafe?
We want to run a few campaigns to generate increased revenues to keep us going. We know it is a bit of a road bump, but we will get through this. Colchester has such a great community spirit. We just want people to know that we are still open, and they can still support us by ordering from us. By continuing to operate, we will be able to serve our customers, support our local suppliers and offer work to University students who are still on campus. This is going to demonstrate the Essex resilient spirit very clearly and will be huge success story after the pandemic is over.
How would you rate the business support services at the ICKG?
Business support and collaboration from the ICKG team has always been great, flexible and supported us where we needed it most. We have collaborated with the team on many events and we are confident that element will return in the new year.
What would you say to a growing business considering moving to the ICKG?
If you want your business to thrive, then move your business to ICKG, a hub for entrepreneurship and innovation in the East of England. The ICKG team are working hard to ensure you receive the highest level of service possible.
Mission cafes new website is now live and taking orders for delivery locally at https://www.mission-cafe.co.uk/ and don't tell anyone but they do make the best coffee on campus
(Disclaimer -Face masks are always worn in Mission cafe and were only removed briefly for these staged photos)