Having relocated to the Innovation Centre two years ago and now back in the office we caught up with Mondaq CEO Tim Harty on the ongoing partnerships they have going with the University of Essex plus what is on the horizon for the Mondaq team in 2021 and beyond.
Can you tell us a little bit about your business?
In a nutshell, Mondaq offers professional services firms global, AI-enabled content marketing and analytics solutions and helps its 21 million readers worldwide to find answers to legal, tax and compliance questions. We are headquartered in Bristol, our fast-growing tech and data science team is based at the Innovation Centre and we have offices in New York and Sydney.
You have been working with The University of Essex for a number of years, what has your experience been so far? What have been the outputs?
We've worked in partnership with the University of Essex (UoE) and Innovate UK on a number of data science and AI initiatives that have delivered new features and functionality on Mondaq.com that have, up to now, focussed primarily on content relevancy and user engagement, leading to a significant increase in usage. These initiatives led to our previous Knowledge Transfer Partnership (KTP) with the UoE winning best KTP for small and medium-sized enterprises.
What are you working on at the moment?
We're currently working with the University on a second KTP, that is focussed on significantly advancing Mondaq's analytics and predictive capabilities.
Why did you decide to join us here at the ICKG?
For those who don't know it, the Innovation Centre is a bit like a tech campus, with loads of start-ups and scale-ups, fantastic offices, meeting rooms, shared and breakout space, an excellent canteen and a lot of friendly and knowledgeable staff. The set up inspires creativity and innovation and we're very happy to be gradually moving our tech and data science team back in after the most recent lockdown.
What would you say to a prospective business looking at the Innovation centre and working with UoE?
That both the Innovation Centre and UoE are excellent partners, the Business Engagement team at the University is always a great source of advice and help, and you should come and take a look. Also, being closely associated with the University and being on campus is great for recruitment and where possible we like to provide work experience to masters students.
What do the next 6-12 months look like for Mondaq?
As the pandemic continues to accelerate global digital transformation, Mondaq is aiming to be of further help to existing and new clients via our suite of AI-enabled digital content marketing and analytics solutions and of course we'll continue to help our 21M readers globally to answer legal, tax and compliance questions.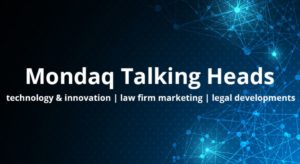 We have also developed a series of regular posts that will cover a range of topics with a focus on Technology and Innovation, Law Firm Marketing and Legal Developments. The latest Talking Head is delivered by Mondaq's Senior Data Scientist, Ruta Petraityte and looks at "Helping your Content Reach Relevant Readers".
You can watch it here
We are excited to see where Mondaq go next. If you are interested in how you can be part of the centre, please contact us at info@innovationcentre-kg.co.uk  or 01206 405 500 for Coworking, Hotdesking and Office space to rent.