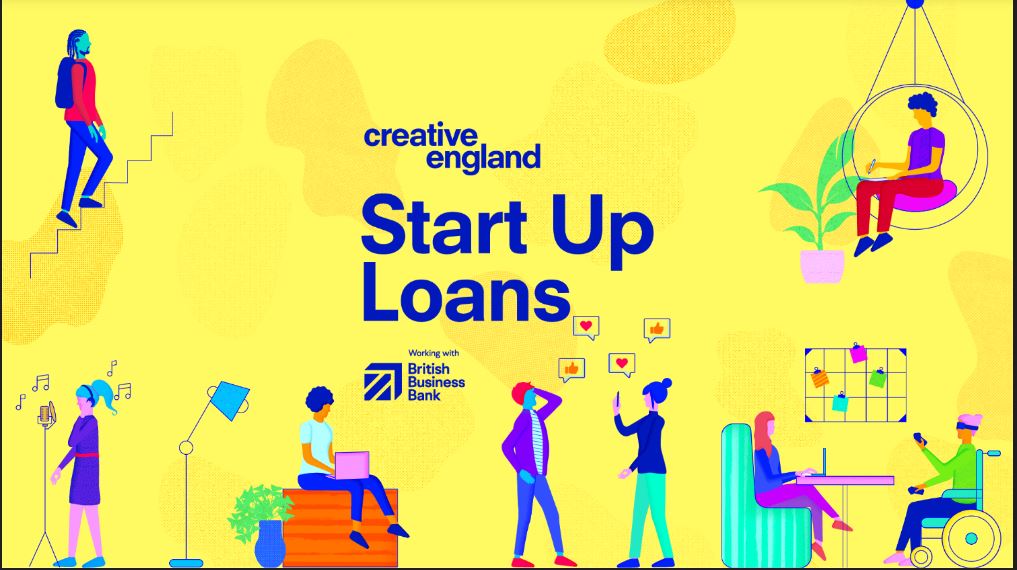 Creative England and the British Business Bank's Start-Up Loans programme have today announced a new partnership, establishing an accessible source of financial and business support for creative entrepreneurs across the UK. The partnership provides vital support for creative businesses – many of whom struggle to access traditional forms of finance – to start, grow and develop their IP.  
In 2018, the Creative Industries Council reported that 62% of creative businesses felt their growth had been restricted due to a lack of funding, and that 72% of creative businesses using funding still felt undercapitalised. This gap in opportunity is in spite of the creative industries contributing nearly £116bn GVA to the UK prior to the pandemic – greater than the automotive, aerospace, life sciences and oil and gas industries combined – and growing at more than four times the rate of the country's wider economy. 
Since 2012, Creative England has sought to remove this disconnect, investing over £25m into small creative companies and leveraging an additional £100m of private sector financing into those businesses – including via the £24m Creative Growth Finance debut fund, launched in 2019 with Triodos Bank. The Start-Up Loans programme has provided more than £722m in funding to over 80,000 recipients since its launch in 2012. The programme has been particularly effective in tackling the disproportionate impact of Covid-19 on young people, with double the number of young entrepreneurs (aged 18-24) using it in 2020, compared to 2019. 
The new government-backed Start Up Loans for the creative industries will offer borrowing of up to £25,000 at a fixed interest rate of 6% per annum, repayable over 1-5 years. As well as providing access to early financing, the loans will also include 12 months of post-investment mentoring support for recipients. Applicants are welcome from any subsector of the UK's creative industries; from young practitioners or experienced freelancers, to creative start-ups less than two years old. 
Mehjabeen Patrick, CFO, Creative England, said:
"Financial support and investment opportunities in the creative industries are already all too rare, with talent and ideas often not matched with the opportunities required to unlock potential. The impact of the pandemic threatens to widen this disconnect further. In partnering with the Start-Up Loans programme, Creative England can support creative entrepreneurs in accessing the affordable financing and support they need to grow effective and sustainable businesses." 
Richard Bearman, Managing Director, Start Up Loans, said: 
"The creative industries are of huge importance to the UK, and encouraging more people to set up businesses in the sector is a great way to develop the cultural life of the nation while reinvigorating the economy. 

"It's therefore a great pleasure to confirm this new partnership, which will offer aspiring entrepreneurs in the sector the capital, practical support and guidance they need to succeed. I look forward to working closely with Creative England and the Department for Digital, Culture Media & Sport to make the aspiration of business ownership a reality for creative minds across the country." 
Caroline Dinenage, Minister of State for Digital and Culture, Department for Digital, Culture, Media and Sport, said: 
"The creative industries make a huge contribution to our economy and will continue to play a central role as we build back better from the pandemic. 

"I am pleased that Creative England and Start Up Loans have come together to provide vital support for creative entrepreneurs across the whole of the UK and I look forward to seeing the impact this has." 
Nicola Patalong, 38, took out £19,000 in 2014 through Delivery Partner BFS, to launch PO'Sh Creative Ltd – an integrated creative agency that offers a broad spectrum of services including animation, branding, web, marketing, social and design. She used the loan to purchase new equipment and hire a new designer.  
Nicola said: 
 "Since launching, we've worked hard to build a reputation for producing high quality creative and have gained some incredible clients in the process. Last year was a challenging one, not just as a business owner, but a working mum too (with home-schooling to fit into the schedule).  

"We've had to adapt, sometimes working day and night, but we survived, and in fact on the back of the whole team's dedication we've thrived. We launched a new business called Immersive (a dynamic and fully immersive virtual event platform) and in the last two months successfully recruited four new members of staff at PO'Sh including an animator, digital marketing manager, social and content creator and full stack/app developer. The rewards have been fantastic!" 
To support the delivery of the new loans, Creative England has engaged an advisory group comprised of figures from across the creative industries in the UK, including representatives from Triforce Creative Network, Dazed Media and Creative United. Their specialist knowledge and expertise will help shape the promotion of the Start Up Loans for the creative industries, ensuring opportunity to access a loan is available to the widest possible network. 
To apply visit www.creativeengland.co.uk/investment/start-up-loans