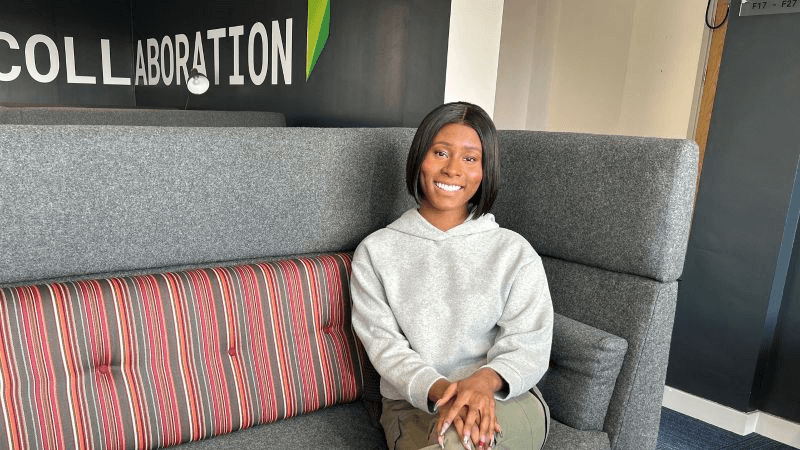 Here at the Innovation Centre Knowledge Gateway we are always keen to celebrate young entrepreneurs that are part of Essex Startups. Essex Startups are based here in the building and part of the University of Essex that help guide current student/graduates/entrepreneurs with their business ideas.
Their Evolve accelerator programme has just started and Abisola Bright is part of it, and you can read her story below.
Class of 2019 graduate Abi left Essex with a BSc in Economics, but it was her life-long obsession with nails that helped launch her start-up journey.
How it started…
For as long as I can remember, I have been obsessed with nails. As a teenager, I would spend any pocket money on having my nails done. In fact, I think I was only 14 when I had my first set of acrylic nails, and as a student it was certainly my biggest monthly outgoing!
During my final year at Essex, I joined a training academy so that I could learn the skills of a nail technician. I started my first small-scale side-hustle offering manicure, pedicure, and gel extension services at a discounted rate for friends and family, allowing me to pursue my passion and hone my skills.
The idea for my business came from my own experiences of trying to manage bookings. I was operating my nail technician services on a very small scale, and yet my time was dominated by going back and forth using messaging services to try and establish suitable appointments. I started to think about what I needed to overcome this issue, and the concept for Polishpad began to form.
I reached out to the Essex Startups team, receiving mentoring and attending as workshops as possible. I took part the Summer Bootcamp in 2019, completing two days of interactive workshops and working with the team over the weeks that followed to build my business plan. At the end of the process, I participated in the Big Pitch and was awarded my first investment of £200.
After graduation, I found employment as part of a graduate programme with a global payment processor as a Client Development Analyst, Retentions Analyst and Project Lead. During my two and a half years there, I continued to advance my skills as a nail technician as much as possible and used social media to establish a community and build a network with other nail enthusiasts like me. During the pandemic, I seized the opportunity to make connections and better understand the needs of those nail technicians already serving a client base. This time was devastating for many self-employed individuals, so I felt a sense of duty to pursue my business idea to ensure that when the world did open up again that they had the right tools to support their trade.
How it's going…
Since September 2022, I have been working on my business full-time.
It has been an intense learning experience, with highs and lows along the way. An important lesson has been that people you hire can have a huge impact on the success or failure of your business. Even if someone has all of the right qualifications on paper, if they don't share your values or care about what you are trying to achieve then the relationship won't blossom, and your output will suffer. I have realised people develop with you and will go the extra mile for you if they are positive about your goals.
I have found having a mentor for the duration of this process extremely valuable. It is so important to have someone to turn to in order to remain on track, provide guidance and give an alternative perspective on any new ideas for development.
Over the past couple of years, I have seized as many opportunities as possible to pitch for funding with Essex Startups. There have been times when I have felt bitter disappointment not to have won a pitch but, looking back, I gained so much from those experiences. It is now clear that I wasn't ready in those moments to use the investments in the right way and needed to refine my ideas to achieve the best outcomes.
I continue to use social media channels to connect with my prospective market and cultivate relationships with the nail tech community. I have been lucky enough to partner with some high-profile influencers and suppliers to run competitions and seasonal campaigns that promote the work of nail technicians across the country. It is really important to me to be an advocate for talented technicians and help boost their market reach.
Working on your own business can be all consuming and overwhelming at times. It has been important for me to understand that 'health is wealth', as everything becomes messy if you don't take care of yourself. I am the first to admit that I am not a morning person, so I build my schedule around the periods of day when I feel I work at my best, building in free time in the evenings and during the weekend to ensure I have time to socialise and take a break.
What's next…
I have been working very hard to get to MVP-stage (Minimal Viable Product) and am preparing to launch at the end of this month. It has been a long road to get this point, but I'm confident that the product is ready for market and the demand is there.
I am currently working with a group of University of Essex students as part of the Innovation Factory project. The students are working alongside me to support the development of my marketing strategy. This provides them with work-based learning experience and gives me access to a talented and enthusiastic workforce. It is a privilege to support and inspire entrepreneurial-minded students in this way, on both a personal and professional level.
I am excited to be joining the evolve Accelerator Programme with the Essex Startups team, to strengthen my knowledge in order to make my business a long-term success.
Words of wisdom…
Do not give up. I am now two and a half years in, and I still haven't launched. However, I believe in my product, and I know what I want to achieve, and that is the key. You need to take the time to understand your market and listen to their needs. Be open to adaptation to ensure that you're providing a solution to a problem.
Focus on one thing at a time. If you spread yourself too thin, you'll burn out. For me, it's been essential to recognise that I am one person with limited time and funds, so by focusing on doing one thing really well then momentum naturally builds.
Be open to evolution. It's almost guaranteed that your end product will differ from your original vision, but this is all part of the journey. Building a network within the entrepreneurial community is vital for gaining alternative perspectives on your processes, idea sharing and general support.
Find out more
If you have a potential business idea, or are interested in developing your business skills, find out more about the training, events and support Essex Startups offers to current students and recent graduates.
Find out more about our office space solutions, or contact us at info@innovationcentre-kg.co.uk  or 01206 405 500.