Major funding to nurture and support new digital and creative businesses has been announced as the University of Essex's Colchester Campus is named a University Enterprise Zone.
Research England and the UK Government today committed £800,000 towards the £1.3 million Accelerating Innovation at the Knowledge Gateway project. Over the next two years the University will increase business and job creation by providing budding entrepreneurs with advice and practical support at the University's 43-acre Knowledge Gateway research and technology park.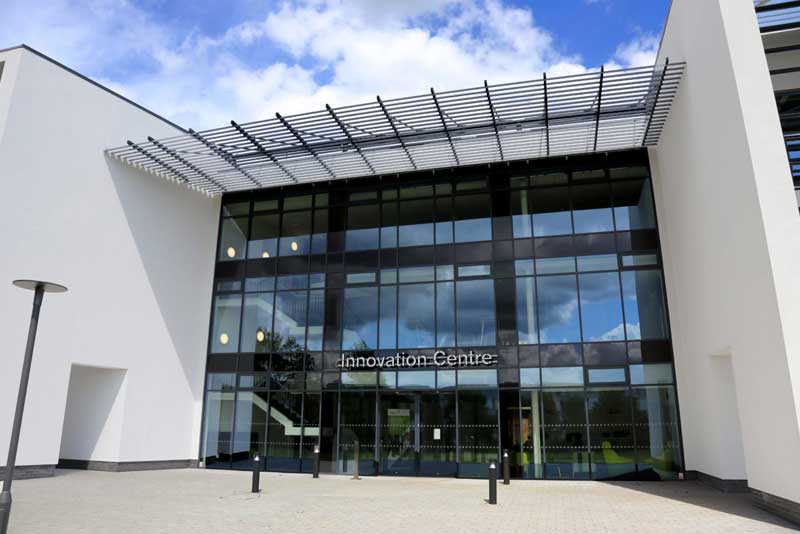 The announcement comes just two months after the official opening of the Innovation Centre, Knowledge Gateway which is now a growing hub for new and developing tech businesses.
The new money will be used to:
Launch 'Space to Grow' – an innovative three-month programme which will immerse participants in the digital creative industry – academics, including IT specialists, designers and business experts will work with them to help make their business and product ideas a reality.
Deliver 'Angels@Essex' a crowdfunding platform to provide the necessary finance to allow businesses to develop and grow.
Provide additional high-tech equipment and software in Studio X – the University's digital creative studio and home to the student business start-up programme.
Establish 'work anywhere' Wi-Fi on the Knowledge Gateway and across the University campus to ensure wherever you are, you have an easy-access connection, without having to log into separate networks.
Vice-Chancellor, Professor Anthony Forster, said: "I am absolutely delighted the Knowledge Gateway on the University of Essex's Colchester Campus has been designated a University Enterprise Zone.
"This provides national recognition of its strategic importance and further momentum to our aspirations to make it the location of choice in the eastern region for knowledge-based enterprises in science, technology and the creative sector.
"We have been working towards this status over the last five years, with over £50 million of investment in the Knowledge Gateway. Our vision is to create more than 2,000 high-value jobs within 15 years, welcoming more start-ups, SMEs and global businesses who will benefit from the co-location with our world-class researchers on our Colchester Campus."
University Enterprise Zones were first established in four pilot areas in 2015 – the aim was to encourage universities and businesses to work together to increase local growth and innovation.
Daniel Smart, Centre Director of the Innovation Centre, Knowledge Gateway said: "The Innovation Centre, run by Oxford innovation, will house up to 50 start-ups focused around science and tech. We have been open a few months and already have exciting collaborations between the University and businesses in the building.
"This announcement will help support budding entrepreneurs, start-ups and scale ups to access the unique skill sets and talent at the University and help cement the Knowledge Gateway as the location in the east to base your business."
Science Minister Chris Skidmore said: "Small businesses are the lifeblood of our economy, and Essex has a thriving ecosystem of local businesses and entrepreneurs whose creativity and determination help underpin the UK's position as a leading innovator.
"Alongside this, many of Essex's research community are right on the precipice of turning ground-breaking ideas into real products and services which could change the lives not just of people in the local community, but people around the world.
"Today's funding will not only help local scientists take their ideas from lab to market – but will also support an enterprise hub at University of Essex. Providing space for local businesses to forge crucial partnerships, the UEZs will create jobs, drive local growth and provide SMEs with a vital steppingstone to succeed."
UK Research and Innovation Chief Executive, Professor Sir Mark Walport, said: "These 20 University Enterprise Zones funded by Research England will be important focal points for collaboration in business-friendly environments, driving innovation and delivering benefits that will be felt across economies at the local, regional and national scale."
David Sweeney, Executive Chair of Research England, said: "The University Enterprise Zones will act as focal points for collaboration in business-friendly environments, driving innovation and delivering benefits that will be felt across economies as local, regional and national scale.
"They demonstrate that universities are at the cutting edge of technology incubation and are committed to delivering on the government's place agenda."
Essex is one of 20 new zones to be created. A manager and nine other full and part-time staff will be appointed to manage the project.