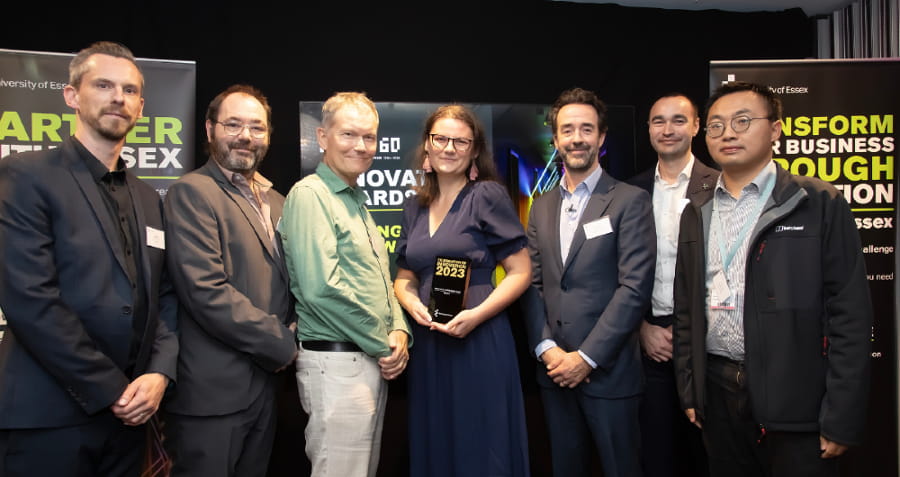 Last month we celebrated with Mondaq as they received the Lasting Impact Award from University of Essex at their Celebration of Innovation event. To find out more about Mondaq and how working with the university has benefitted their business, we sat down with Richard Anderson, Mondaq's Chief Product Officer.
Welcome Richard! Can you start by telling us a bit about Mondaq?
Mondaq is a leading provider of AI-enabled content marketing, data and analytics solutions for professional services firms. We help amplify firms content marketing whilst also providing them analytics on their audience which can translate into content marketing strategy and powering business development. We've been around since 1997 and were a bit of a pioneer in the online space at the time. Recently, we've recognised increased growth opportunity through the increased need for data solutions in our space.
What is your role within the team at Mondaq and what are your priorities for the business?
I'm the Chief Product Officer at Mondaq, which means I am the main go-between in determining what our clients needs are and translating this into deliverable solutions. My main priority for the business right now is helping us pivot towards data analytics – both externally and internally – and ultimately taking advantage of technology, both new and upcoming, to deliver innovation solutions to our customers. 
Mondaq are a global business, what attracted you to having a base in Colchester and here at ICKG?
We have a close relationship with the University of Essex through two Knowledge Transfer Partnerships with them, and because of this it was really convenient for us to be the at the Innovation Centre. Also as our team has grown it has made sense for us to have a hub to work from and the Innovation Centre is a great space to collaborate together. 
Tell us a bit about the team who are based here in ICKG and what they work on for the business.
Mondaq is headquartered in Bristol. Our CEO, Sales and Marketing teams are all based out of a large office there. In Colchester, we have the technical team which consists of developers and data scientists led by Anthony, our CTO – they are responsible for the whole tech stack at Mondaq whether that's internal tools, the externally facing website or the behind the scenes analytics platform that we provide to our customers. 
Congratulations on receiving the Lasting Impact Award from University of Essex! Can you tell us about the work you did with the university which led to the award? How has collaborating with the university benefitted your business?
They've had a fairly profound impact on our business, the direct effects of the collaboration projects were to deliver some features and functionality which we wouldn't have been able to do ourselves. But the wider effect has been to bring some really high quality talent into the business – Ruta, our Lead in Data Science and Analytics was our first ever KTP associate. It's also shifted the whole organisation to a more data-centric mentality.
What's next on the horizon for Mondaq, and for the team here in Colchester?
We're growing as a team – we've recently recruited Abbi here at the Innovation Centre – and the last few years we've completely re-developed our core offerings. In 2024 we're looking forward to building on this solid base and really starting to take advantage of the advances in data science and artificial intelligence into our core product offerings. 
Visit the Mondaq website to find out more
—
Find out more about our office space solutions, or contact us at info@innovationcentre-kg.co.uk  or 01206 405 50.