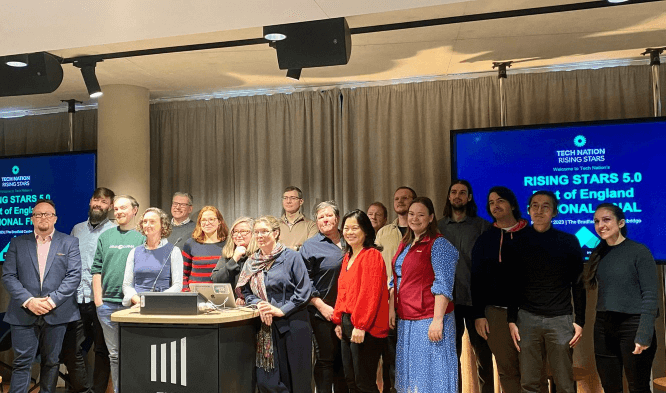 During December we had the pleasure of holding the Essex and City final of the Technation Rising Stars final here at the Innovation Centre Knowledge Gateway.
Technation Rising Stars is the UK's most exciting competition for early stage scaleups, designed to showcase and support the best the country has to offer at a local, regional and national level.
One of the winners was our very own Arma Karma based here in the centre who then went on to the regional final in Cambridge on the 9th of January. Here they pitched in front of an expert panel which even contained our very own Innovation Director Neil (who was obviously impartial).  The judging panel consisted of Emmi Nicholl, managing director at Cambridge Angels; James Parton, managing director at The Bradfield Centre; Faye Holland, cofinitive founder and director; Tim Robinson, Tech East chief operating officer.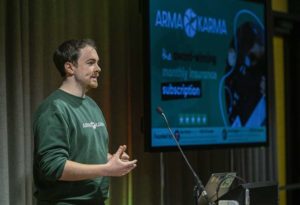 It was truly inspiring to celebrate and watch fifteen amazing Founders taking the iconic Bradfield Centre stage to pitch their innovative tech & solutions designed to impact the world in a positive way.
Anna Nadolna, scaleup engagement manager, East of England at Tech Nation, said: "The regional finals are the next stage of the Tech Nation Rising Stars 5.0 competition and it was great to see the East of England founders taking the iconic Bradfield Centre stage and presenting their innovative technologies and solutions that have a potential to impact the world in a positive way.
"They all did an amazing job to tell their stories and pitch their ideas in a challenging format of three minutes only!"
There were some top pitches by all, and it was great to see companies from all over the Eastern region come together and pitch for a place in the next round. The competition was of an extremely high standard, and they will find out later in January who progresses to the next stage. Good luck everyone!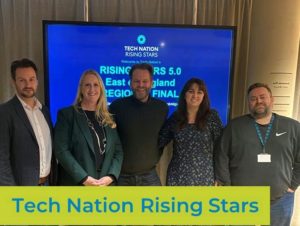 Afterwards Neil has time to join the other judges to record an episode of the Cambridge Tech podcast with Faye Holland and James Parton.
In the episode, they talk to the judges about why every interaction of a start-up is important, the responsibility of a judge to help these early-stage companies, and a few pet peeves in competition submissions and pitch presentations.
There are some fascinating insights for anyone about to enter a start-up competition or funding round.
You can listen here. 
We are always happy to collaborate and showcase the businesses we have in the centre and the local ecosystem. If you are looking for a base for you company in Colchester or Essex check out or workspaces and meeting rooms.
Find out more about our office space solutions, or contact us at info@innovationcentre-kg.co.uk  or 01206 405 500 .