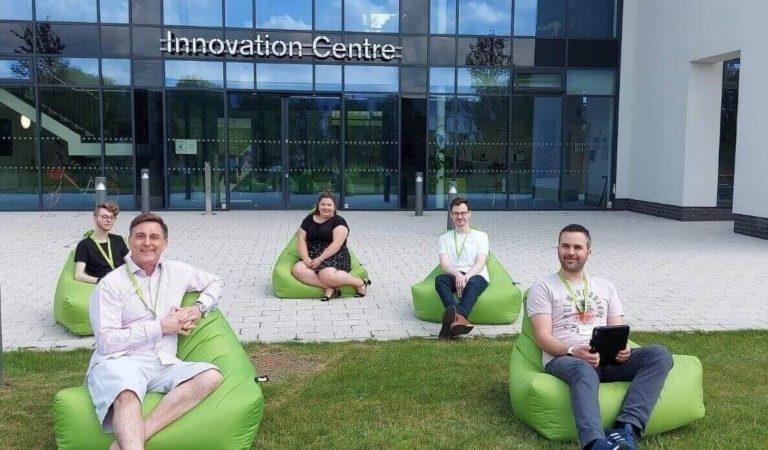 Whilst the past 12 months have been challenging for all small businesses, the team at greyzip have taken every challenge thrown their way in their stride. We caught up with the greyzip team to find out what life is really like in a fast-growing digital marketing agency.
Of course, the first place to start was with Founder and Managing Director, Ashley Stevens. Ashley, why did you decide to launch greyzip and how has the pandemic affected your business?
"Working for so many years in corporate became a real drain on my creativity and drive. Starting my own business gave me the freedom I needed to excel in what I loved doing. Through the results that my early clients experienced, it soon became apparent that we were in a position to offer an amazing service at a very competitive price, hence our agency was born.
Our journey has been impacted by the worldwide pandemic, however through our amazing team and the relationships that we have forged with our clients, we came through and helped pull others through these difficult times. Now we continue to grow at an unexpected rate, growing as a team and by skillset in the process. We are very excited for what the future holds for greyzip and the companies that we work with."
To support business growth, the next step was to begin building a team. Head of Business Develop, Christopher Ogden has many years of business experience and has proved to be the perfect fit. Chris, what first attracted you to greyzip and how has the business developed since last year?
"I tell the story regularly! What attracted me to greyzip was Ashley Stevens! His knowledge, his passion and his drive I found intoxicating. I was keen to understand if this translated to results and research showed this to be the case. We also understood each other with shared values. The challenge of building a team in order to make the opportunity and the business scalable was the next attraction. Over the last two plus years we have achieved this. The last year in particular has been amazing. The move into the Innovation Centre has allowed us to grow the team from four to eight and add fellow Centre inhabitants to our customer list."
With an increasing number of clients, the time was right to move from freelancers to building a core team. In November and December of 2020, greyzip recruited its first two employees: Sabina Mack, Senior Communications Manager and Daniel Harding, Digital Marketing Account Manager.
Sabina, what has your first year at greyzip been like?
"Well, it has definitely flown by! We've achieved so much in the last year including adding new services to our offering, attending networking events and supporting the local community, working with Sanctus and Kinetix Academy. I am really excited for what the future holds for us as we continue to grow, bring on 2022!"
Wow, it certainly sounds like you have been busy. Dan, what do you like about working for greyzip?
"Being honest, working for greyzip is unlike any other company that I've previously worked for. It's been a breath of fresh air to start working for a company that stands by what it states as its core values! I love that I can be myself without fear of being incorrectly judged for simply being me. It's also nice to actually be listened to and have my opinion or approach to work taken into consideration when a problem arises. Overall, I appreciate the support, trust and transparency that is in place and offered to the entire team at greyzip."
As the business grows so does the team, latest editions include Jordan Goldie, Junior Digital Marketing Executive and Alice Warner, Creative and Digital Marketing Executive. How are you finding life as part of the greyzip team?
Speaking to Alice, "I am thoroughly enjoying my time at greyzip, everyone has been very welcoming and made me feel part of the team from day one. 
Being part of the greyzip team has allowed me to expand my knowledge of digital marketing and work with clients in a variety of industries. I am learning more and more every day. 
I am looking forward to what the future has in store for the greyzip team and I."
Jordan said "I really enjoy working as part of the greyzip team. The atmosphere is really friendly, and we have a lot of fun together. At the same time, we all work hard to help the business grow, and I love being part of a team where everyone supports each other. Everyone gets rewarded for their hard work with team outings and dinners which really help to strengthen the team spirit."
Chatting to the team, they are passionate about supporting new talent. greyzip have joined the University of Essex intern programme to give students and recent graduates a chance to gain invaluable experience in the world of marketing. We caught up with greyzip interns Elise Beudet and Matilde Balata to find out more.
Girls, why did you apply for an internship with greyzip and what do you hope to gain from your time with the team?
Elise said "I applied for an internship with greyzip because the work they do really interests me and fits with what I want to do with my career. I thought we could both gain from working together. I believe they can bring me a certain level of skills and expertise and I can bring them a fresh outlook accompanied with my serious work ethic. I hope to gain experience, skills, knowledge and a better understanding of my capacities from my (hopefully long) time with the greyzip team."
Matilde said "I am a third year undergraduate Management and marketing student. I am keen to build my knowledge base for my future career in marketing. I have been passionate about social media for a while and this is grown into an interest in digital marketing, enhanced by my studies. In my second year I was part of the executive team for a society, managing their social media channels. So why not experiment what is working in a marketing and advertising agency? The driving force behind my application for greyzip is the company's personality. As soon as I started researching the company, I had a great feeling about it, such as the family vibe, a nice place to learn new skills and accomplish new goals. The main thing I would like to achieve from this experience is to learn. I hope to gain new skills in SEO, social media management, PR and media relations. All the skills learnt, and the internship experience itself, I will take away to use for my future career."
We love having the team at greyzip here at the Innovation Centre with us, the team regularly host clinics and workshops to share their knowledge with others in the building as well as collaborating with some of our other residents. It certainly is going to be an exciting 2022 for all at team greyzip and we wish them every success for the year ahead! If you would like to find out more about what the team at greyzip do and discover how they can support your business, please visit their website.
If, like greyzip you want to be a environment that is more than just office space and be part of the Innovation Centre business ecosystem please contact us at info@innovationcentre-kg.co.uk  or 01206 405 500